Ex-White House Aide Reveals Why Trump Refused to Wear Mask During Covid
Cassidy Hutchinson explains why Donald Trump would never wear masks, even during the height of the pandemic.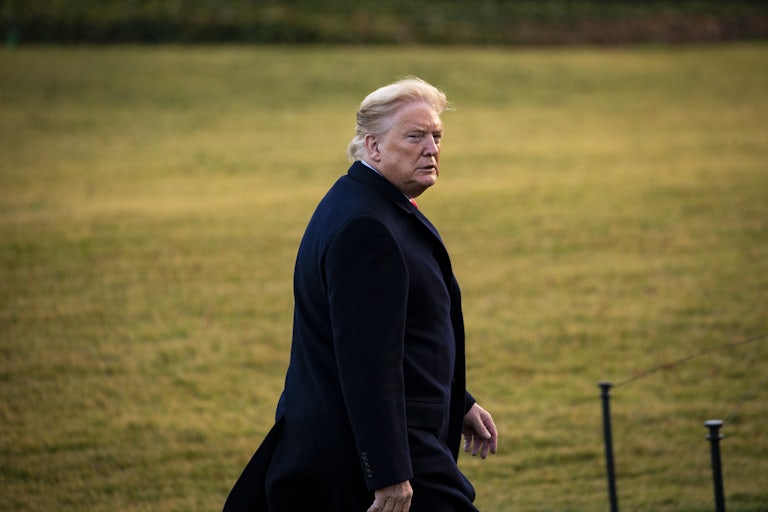 Al Drago/Bloomberg/Getty Images
Donald Trump staunchly refused to wear a mask during the peak of the Covid-19 pandemic, and a big reason why is that he didn't want to smudge his makeup, former White House aide Cassidy Hutchinson has revealed.
Hutchinson worked as the top assistant to Donald Trump's chief of staff Mark Meadows, and she eventually became a star witness for the House January 6 investigative committee. She reveals Trump's turning point on masks in her new book Enough, The Guardian reported Thursday.
Trump toured a Honeywell mask-making factory in May 2020, and he sparked criticism for not wearing a mask during the tour. He told reporters he chose not to after the Honeywell chief executive gave him the go-ahead.
But Hutchinson writes that Trump initially chose to wear a white mask, and then asked staffers what they thought.
"I slowly shook my head," Hutchinson says. "The president pulled the mask off and asked why I thought he should not wear it."
"I pointed at the straps of the N95 I was holding. When he looked at the straps of his mask, he saw they were covered in bronzer."
Trump immediately decided to forgo the mask, according to Hutchinson, who wrote, "'Why did no one else tell me that?" he snapped. "I'm not wearing this thing."
Trump has regularly been mocked for his distinct orange complexion. People often speculate whether he uses makeup or fake tan to get his skin to that particular shade.
Trump's refusal to wear a mask backfired spectacularly, and he tested positive for Covid on September 26, 2020. He and Meadows hid his diagnosis for several days and didn't announce it publicly until October 2. Those six days were just enough time for Trump to infect Chris Christie.
Christie said in December 2021 that it was "undeniable" Trump had given him Covid. He also blasted Meadows for not warning anyone that Trump was sick.
"I would have worn a mask if I knew that," Christie told PBS. "[Meadows] didn't tell us."

"I went into the hospital in the intensive care unit. He didn't call and tell me. So I think that's inexcusable."