Ex-Fox Producer Reveals Just How Little Tucker Carlson Cared About Facts on January 6
Abby Grossberg had to report to the former Fox News host—and now she's airing all the network's dirty laundry.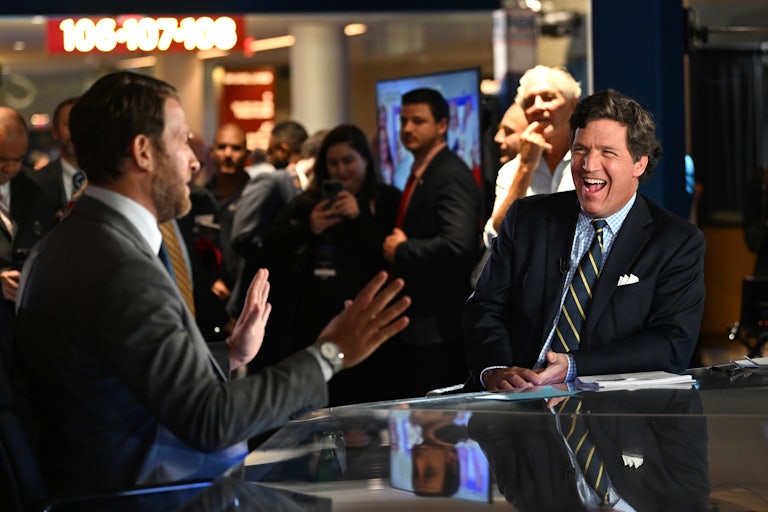 Jason Koerner/Getty Images
Former Fox News producer Abby Grossberg revealed Tuesday that erstwhile network star Tucker Carlson was determined to push a conspiracy theory that the FBI had instigated the January 6 riot—regardless of facts.
Grossberg is suing Fox, where she worked for four years, alleging that company lawyers coerced her into giving misleading testimony in the Dominion Voting Systems lawsuit. The move, she argued, was due to a culture of "poisonous and entrenched patriarchy" and gender-based discrimination. She also said that there were constant "lies and deceit" at Fox because the network prioritized ratings above all else.
In an interview Tuesday with MSNBC, she revealed just how far Carlson in particular went for that priority.

"When the January 6 tapes were coming out, Tucker was very set on finding an FBI person who was implanted in the crowd and spinning this conspiracy that they were ultimately the ones responsible for the Capitol attack. Not Fox News," Grossberg told Nicolle Wallace.
Even though a lawyer for the Proud Boys told Grossberg—twice—in no uncertain terms that "there is no conspiracy," Carlson forged ahead. He insisted that federal agents embedded among the rioters and ultimately prompted the attack on the Capitol, and Grossberg was asked to find a guest for the show who would be OK with the conspiracy theory.
Others on the right have also run with the conspiracy, but Carlson launched it to a wider audience. After one of his segments, Poynter noted that "there is no credible evidence behind this theory, and Carlson's piece doesn't present any." Yet in March, when former President Donald Trump predicted that he would be indicted and urged his followers to protest in New York, Representative Marjorie Taylor Greene implied that a demonstration would do no good for similar reasons.
"How many Feds/Fed assets are in place to turn protest against the political arrest of Pres Trump into violence?" she tweeted.
Carlson, of course, knew better. Court documents published during the Dominion Voting Systems lawsuit against Fox showed that hosts including Carlson knew the election conspiracies were false and that Trump's lawyers weren't credible, but they spread the conspiracies and invited the lawyers on air anyway.