Clarence Thomas Hid Real Estate Deal With Republican Billionaire Megadonor
The Supreme Court justice did not disclose the sales, according to a new report.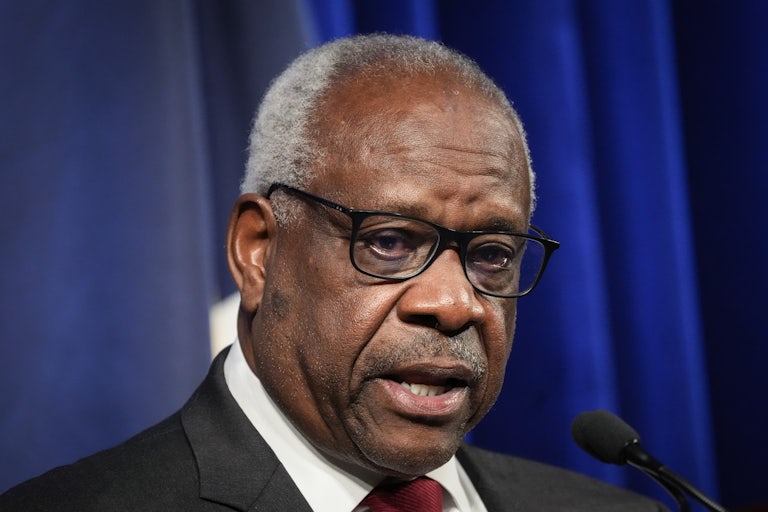 Drew Angerer/Getty Images
Last week, ProPublica revealed that billionaire Republican megadonor Harlan Crow has been secretly showering Supreme Court Justice Clarence Thomas with lavish gifts like island-hopping excursions on massive yachts and on-demand private jet rides—for decades.
Now, the outlet has revealed that Thomas also covertly sold property to the billionaire, including his childhood home where Thomas's mother continued living as Crow spent tens of thousands in renovations.
In 2014, Crow bought a single-story home and two vacant lots co-owned by Thomas, his mother, and the family of Thomas's late brother for $133,363. It is not clear whether Crow paid fair market value, but ProPublica noted that Crow had bought a vacant lot and small house on the same block the previous year for a total of $40,000.
Regardless of whether Crow paid extra or not, Thomas did not disclose the sale of any of it. Such a failure appears in clear violation of a federal disclosure law passed after Watergate requiring the disclosure of most real estate sales exceeding $1,000 in value, according to several ethics experts who spoke with ProPublica. This is similar to Thomas's violation of disclosure laws when it came to the lavish gifts Crow has been giving the Supreme Court justice for decades.
Neighbors told ProPublica Thomas's mother continues living in the home now owned by Crow. Since his purchase, Crow carried out an array of renovations on the home, including repairing the roof, building a new carport, and adding a new fence and gates.
Crow told ProPublica that he had bought the house in hopes of historical preservation (similar justification, it seems, for the billionaire's signed copy of Mein Kampf).
"My intention is to one day create a public museum at the Thomas home dedicated to telling the story of our nation's second black Supreme Court Justice," Crow said. "I approached the Thomas family about my desire to maintain this historic site so future generations could learn about the inspiring life of one of our greatest Americans."
ProPublica's reports last week indicated an appalling financial entanglement between one of the nine most powerful jurists in the country and one of the wealthiest and most politically entrenched individuals in the country. The new report of the undisclosed sale of property shows just how far their entanglements ran.