Trump, Who Deregulated the Railroad Industry, Lies to the People of Ohio in His Visit
Asked about his administration's own record, Trump pretended he had nothing to do with it.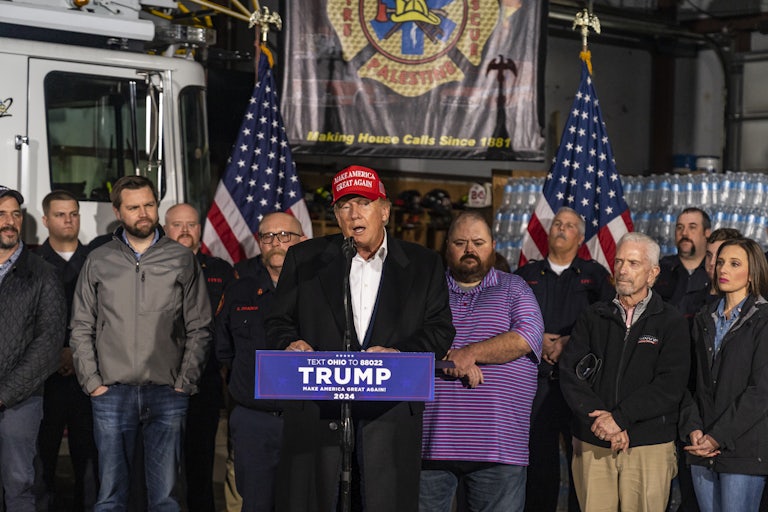 Michael Swensen/Getty Images
Almost three weeks after the derailment of a Norfolk Southern train carrying hazardous materials in Ohio, twice-impeached former President Donald Trump visited and lied to the people of East Palestine, all to score a few photo ops.
Appearing alongside Senator JD Vance, Trump kept his public remarks short, focusing mainly on securing his photo ops, dropping in the occasional quip about Biden visiting Ukraine one year after it was invaded by Russia, and claiming that Biden and FEMA said "they would not send federal aid to East Palestine under any circumstance," which is not true.
When later asked by a reporter about his administration overturning an Obama-era rule requiring better braking systems for trains carrying hazardous materials, he lied again, saying his administration had nothing to do with it.
Trump otherwise kept his visit brief, allowing the cameras to focus on his organized donations of "Trump water," "much lesser quality water," and other goods to the community, in order to avoid actual accountability for his role in leading up to disasters like that in East Palestine. Indeed, during his presidency, Trump oversaw numerous corporate-friendly deregulatory measures that made railroads less safe for the public, and more profitable for companies like Norfolk Southern.
With his party buttressed by millions of dollars in donations and lobbying from companies like Norfolk Southern, Trump overturned an Obama-era rule that required more adequate braking systems for trains carrying highly flammable and hazardous materials (instead of the Civil War-era brakes trains use now). He pulled a stalled Obama-era proposal that would have directed companies to have at least two-man crews on trains and banned states from instating such a requirement themselves. He also halted an auditing program of railroads that has since been revitalized by the Biden administration.
Much of these regulatory slashes were made at the behest of special interests like the Association of American Railroads, which represents massive corporations like Norfolk Southern and heavily lobbied for the deregulatory cornucopia that Trump provided.
Trump also tapped someone with deep ties to the chemical industry to head the EPA's chemical safety and pollution prevention office.
He also appointed someone who spent five years in a senior role at the American Chemistry Council—the foremost lobbying organization for chemical manufacturers like Dupont, Monsanto, and Exxon—to the same office. Beck proceeded to try weakening proposed protections against carcinogenic PFAS chemicals in drinking water supplies and consumer products; rewrite EPA rules to downplay how worker exposure to asbestos would factor into whether the cancer-causing mineral poses an "unreasonable risk"; and slash proposed Obama-era rules to protect workers and the public from the chemical TCE, which is linked to cancer, fetal heart defects, liver and kidney toxicity.
EPA staffing overall went down under Trump.
Of course, as The New Republic has previously reported, the blame for a dangerous industry that leads to over 1,000 train derailments a year is cross-partisan. Railroad companies inject millions of dollars into both parties—leading to deregulation of the rail industry, state Republicans in Ohio unwilling to promptly accept federal help, and a Democratic administration that has not properly advocated for rail workers or and advanced much needed rail regulation.
The common denominator of it all is a conservative politics that argues that the government is weak, and therefore weakens the government in order to prove it at all. So, as Trump visits East Palestine, and as fellow deregulation-chasing Republicans (and even conservative Democrats) may posture themselves as the benevolent voices on the issue, may we not allow them to weasel off the hook so easily.