EPA Finally Beginning to Hold Norfolk Southern Accountable After Ohio Train Derailment
The Environmental Protection Agency is demanding the rail company responsible clean contaminated water and soil, and pick up the tab on all cleanup expenses.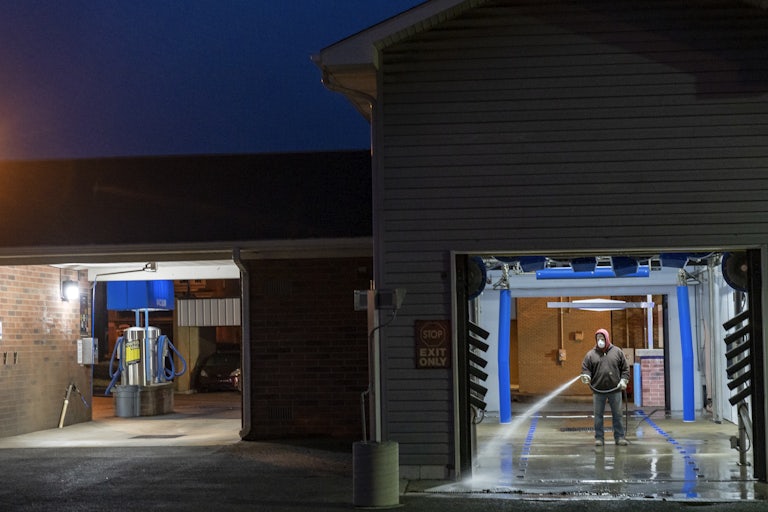 Michael Swensen/Getty Images
On Tuesday, the Environmental Protection Agency, or EPA, seized the reins of the cleanup in East Palestine, Ohio, after the disastrous Norfolk Southern train derailment that left thousands of residents sick and distrustful of the company's remediation efforts. The EPA is also directing Norfolk Southern to pick up the tab on all cleanup expenses.
"The Norfolk Southern train derailment has upended the lives of East Palestine families, and EPA's order will ensure the company is held accountable for jeopardizing the health and safety of this community," said EPA Administrator Michael Regan. "Let me be clear: Norfolk Southern will pay for cleaning up the mess they created and for the trauma they've inflicted on this community."
The EPA directs Norfolk Southern to pursue all available avenues to clean contaminated water and soil, pay for any EPA expenses (including the cleaning services the agency will provide to community members), participate in public meetings, and publish relevant information online for the public. The EPA warned that if Norfolk Southern fails to comply, the agency would do the work itself and then seek triple the cost from the company.
Regan added that he understands the order "cannot undo the nightmare that families in this town have been living with, but it will begin to deliver much-needed comfort for the pain that Norfolk Southern has caused."
While air tests thus far have mostly come back with no concerning levels of vinyl chloride or other contaminants from the train, residents are still concerned about further consistent testing, as well as more stringent testing of the water and soil; swaths of residents are still reporting symptoms, and reports of soiled waterways carrying dead creatures continue.
Meanwhile, on Sunday, Transportation Secretary Pete Buttigieg sent a letter to Norfolk Southern, warning too that the company must "demonstrate unequivocal support" for the community and surrounding areas.
"Norfolk Southern must live up to its commitment to make residents whole—and must also live up to its obligation to do whatever it takes to stop putting communities such as East Palestine at risk," Buttigieg said. "This is the right time for Norfolk Southern to take a leadership position within the rail industry, shifting to a posture that focuses on supporting, not thwarting, efforts to raise the standard of U.S. rail safety regulation."
Buttigieg called some of these regulatory policies out by name, and how the rail industry has lobbied to weaken them: higher safety standards for trains carrying hazardous materials, electronic braking system for those trains, and a now-delayed deadline for instituting more durable rail cars for hazardous materials. He also said he will call on Congress to raise the cap on fines against railroads for violating regulations. Buttigieg's letter seemed to be cognizant of the myriad of ways corporations have bought government support for deregulation, which is welcome news.
The White House has so far hesitated to take the lead on updating these regulations for fear of pushback from the rail industry. Buttigieg's letter, too, ended with a rather ambiguous pledge: "Soon I will be laying out several steps that Norfolk Southern, and all major railroads, should take immediately to improve rail safety for workers and communities—in addition to prioritized actions planned at our department in furtherance of our safety mission." It will be seen whether Buttigieg will actually reinstate much-needed regulations, whittled away by rail corporations, and solidify a pathway toward a safer railroad industry.