Norfolk Southern Pulls Out of Ohio Train Derailment Town Hall, Citing Safety Concerns
The rail company decided not to attend the town hall in East Palestine, Ohio.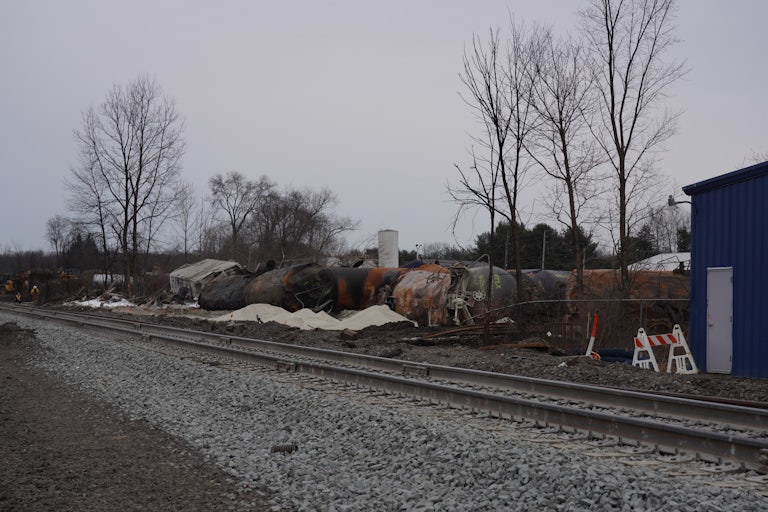 Phil Zhang/Xinhua/Getty Images
rain wreckage from the February 3 derailment in East Palestine, Ohio.
On Wednesday evening, hundreds of community members piled into the East Palestine High School gymnasium for what was originally slated to be a town hall with representatives from Norfolk Southern, the company whose train upended the Ohio community nearly two weeks ago.

The residents came with questions about the symptoms they're feeling, whether it's safe to be in the community, and how they will be supported in the midst of the crisis.
But Norfolk Southern, the primary culprit of the residents' woes, pulled out of the event last minute. Citing concerns for their employees' safety, the company said they will "remain in East Palestine, respond to this situation, and meet with residents."

Now, it is not out of the question that employees may have faced credible threats. (Perhaps explicitly outlining some of them may have given more credence to the notion.) Nonetheless, it is understandable that residents may feel betrayed by a company citing safety concerns as they themselves grapple with an array of concerns for their own safety after the company's disaster.
The event on Wednesday instead proceeded, less as a town hall, and more as an open house space for members of the community to directly interface with people including Representative Bill Johnson, Ohio and U.S. EPA representatives, local and county health officials, and state natural resource and agriculture officials.
"I need help," Mayor Trent Conaway said about being forced into national attention, and whether he has a message for U.S. EPA head Michael Regan who is visiting the town Thursday. "I'm not ready for this. I wasn't built for this. I always thought of myself as a leader. I will do whatever it takes."
Conaway's constituents, however, have found him to be admirable in his commitment to indeed doing "whatever it takes" to support them.
"I'm going to be having a meeting with him soon, he asked me to come and make an appointment and come and sit and talk with him," said resident Ron Arter, who attended the event Wednesday. "And I think that's stand-up." Arter said he did not feel as warmly about Representative Bill Johnson, however. "He didn't help the situation at all, he kind of frustrated quite a bit of people."
The community gathering may not have gone completely smoothly—emotions were understandably high-octane, the situation itself is so massively unprecedented for both residents and officials. But it still displayed what a proper society offers: space for the community and government to directly connect and exchange information.

This kind of symbiotic relationship (the people communicating their concerns to inform officials; officials offering their guidance and shaping their action based on community input) is what should be conducted regularly, not just in the aftermath of travesty or injustice. In doing so, disasters like this might even be evaded in the future, and the whims of a corporate entity would seldom be of concern.
In the meantime, residents wonder how companies like Norfolk Southern get away with what they do, like contaminating the soil as they "cleaned up" the derailment site. "The EPA should have shut everything down when they saw it," said Arter. Despite Ohio Governor Mike DeWine's rejection for further help from the Biden administration, some are demanding a stronger federal response. "That way the railroad just doesn't steamroll everybody," Arter said.