RNC Directs Party To "Go on Offense" on Abortion, Supports Six-Week Bans
The Republican National Committee passed a resolution urging lawmakers to pass extreme anti-abortion legislation, like six-week abortion bans.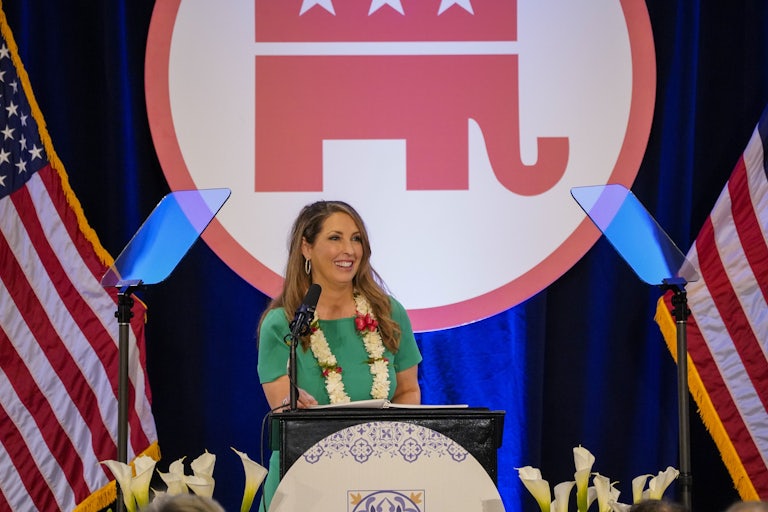 Kyle Grillot/Bloomberg/Getty Images
After reelecting Ronna McDaniel as its leader, the Republican National Committee has passed an anti-choice resolution instructing the party to "go on offense" against abortion rights and pass legislation including six-week bans.
In the resolution passed Monday, the RNC pushes the party apparatus—candidates, consultants, and committees—to "go on offense in the 2024 election cycle," with regard to abortion. It further urges Republicans in state legislatures and Congress to pass the "strongest" anti-choice legislation possible, using language previously used to justify so-called "heartbeat" bills that would ban abortions at six weeks, before many even know they are pregnant.
In the lead-up to the midterms, Senator Lindsey Graham introduced a nationwide ban on abortion after 15 weeks, seeking to present a "reasonable" abortion talking point for the party. Some Republicans took issue with the introduction, worrying, perhaps correctly, that any nationwide ban would give Democrats ample ammo to hammer away on. But the new RNC resolution makes clear that the party apparatus has wanted such a ban, only preferably more extreme.
Neither here nor there, the resolution also farcically cites the party's "proud heritage of challenging slavery, segregation" as a complement to their anti-choice resolution. The former, of course, has little to do with the latter and is an effort today's Republican Party would be hard-pressed to support, given they don't even want kids to learn about slavery, segregation, or race generally.