Gavin Newsom Says Second Amendment Is "Becoming a Suicide Pact" After Yet Another Mass Shooting
At least seven people were killed in the Half Moon Bay shooting. California is reeling from three mass shootings in three days.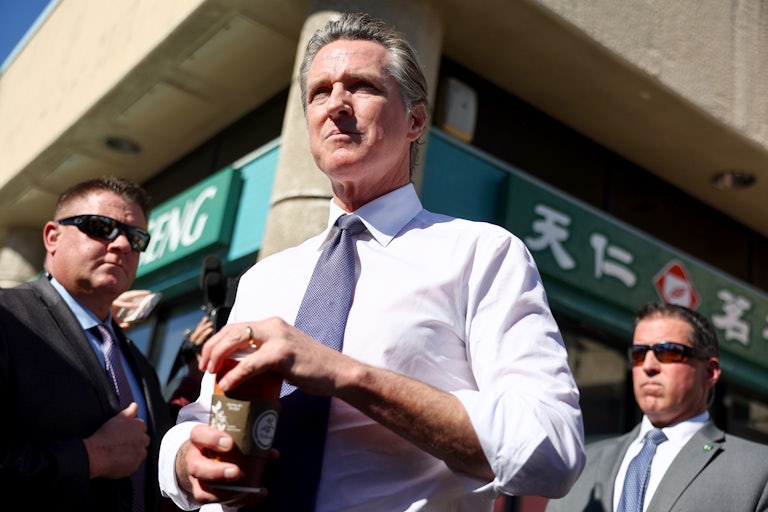 Mario Tama/Getty Images
California Governor Gavin Newsom stands near the scene of a deadly mass shooting at a ballroom dance studio on January 23, in Monterey Park, California.
California Governor Gavin Newsom slammed the Second Amendment as his state reels from its third mass shooting in as many days.
Newsom was visiting Monday evening with victims of the tragic Monterey Park shooting when he received reports that there had been another shooting in Half Moon Bay, which killed seven people and injured one more.
Just a few hours earlier, he told CBS anchor Norah O'Donnell that the Second Amendment, which many Americans believe guarantees them unfettered access to guns, is "becoming a suicide pact."
"Nothing about this is surprising. Everything about this is infuriating," he said of the Monterey Park attack.
The Half Moon Bay attack is California's third mass shooting in just three days. A 67-year-old gunman opened fire on a mushroom farm and a nearby trucking facility. The victims were primarily Chinese laborers. It came just hours after a shooter attacked a gas station in Oakland, killing one person and wounding seven others. The Gun Violence Archive defines a mass shooting as one where four or more people are shot.
The Monterey Park and Half Moon Bay attacks are the deadliest in their respective counties' recent history. The Half Moon Bay massacre was the thirty-seventh mass shooting in the U.S. in 2023, according to the Gun Violence Archive. There has already been another mass shooting since Half Moon Bay, meaning there have been more mass shootings than there have been days this year.
California has some of the strictest gun laws in the country, but they're not foolproof when regulations at the national level have so many loopholes. As The Washington Post noted, "The state's strict gun laws are incapable of fully preventing gun violence in a country where gun ownership is widely considered a constitutionally protected right, firearms move freely between states with vastly different regulations and gun-control measures are dotted with exceptions."