Joe Manchin and Kyrsten Sinema Literally High-Fived Over Their Refusal to End the Filibuster
The two senators, who have blocked bill after bill, high-fived at a panel at the World Economic Forum in Davos.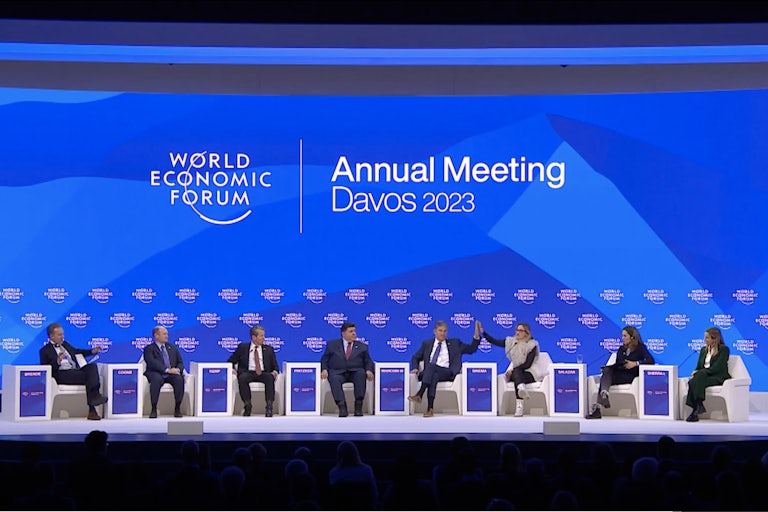 Screenshot/World Economic Forum
Senators Kyrsten Sinema and Joe Manchin, both of whom have blocked crucial legislation, literally high-fived over their mutual belief in keeping the filibuster.
The two were speaking on a panel about U.S. foreign and domestic policy at the Davos World Economic Forum on Tuesday. Sinema argued that the current levels of partisanship in government are not "healthy for democracy," and then Manchin asked if they still agreed on not getting rid of the filibuster.
"That's correct," Sinema said, and the pair high-fived.
The filibuster is a process used to block a bill's passage in the Senate. Contrary to popular belief, the filibuster is not in the Constitution but is instead thought to have arisen from "tenuous precedents and informal practices," according to the Center for American Progress. As of late, the filibuster has been used to essentially enforce minority rule. It takes 60 votes to end debate on a bill, so senators in the minority party can still block a bill's passage through the filibuster. Since bills must pass the Senate before being signed into law, minority senators can force the majority party to agree to changes in the legislation before allowing a final vote.
Democrats have been trying for years to abolish or at least amend the filibuster, but there have been holdouts—notably Sinema and Manchin. The two senators have made names for themselves as perpetual thorns in Joe Biden's side, blocking some of the president's keystone legislation, such as the $2 trillion Build Back Better package aimed at tackling climate change and social welfare.
Manchin and Sinema have been accused of being more self-serving than public servants. West Virginia Senator Manchin voted against paid leave for rail union workers, backed fossil fuel initiatives such as the Mountain Valley natural gas pipeline, and fomented the ridiculous pro-gas stove frenzy.
Sinema, meanwhile, appears to have undergone an ideological 180 since coming to Capitol Hill, seemingly jettisoning the progressive beliefs she previously espoused. She went viral for voting with a flippant thumbs-down against increasing the minimum wage—despite previously being vocal in support of raising it. The Arizona Democratic Party censured her for opposing the removal of the filibuster and accused her of cozying up to wealthy donors instead of fighting for her own constituents.
She was already deeply unpopular across party lines in Arizona, and since switching from Democratic to independent in December, it has only gotten worse. A recent Morning Consult poll found that Sinema is one of the most unpopular senators in the entire country.