January 6 Committee Urges DOJ to Charge Donald Trump for Insurrection
The House select committee recommended the Justice Department pursue four criminal charges against the former president, including inciting or assisting an insurrection.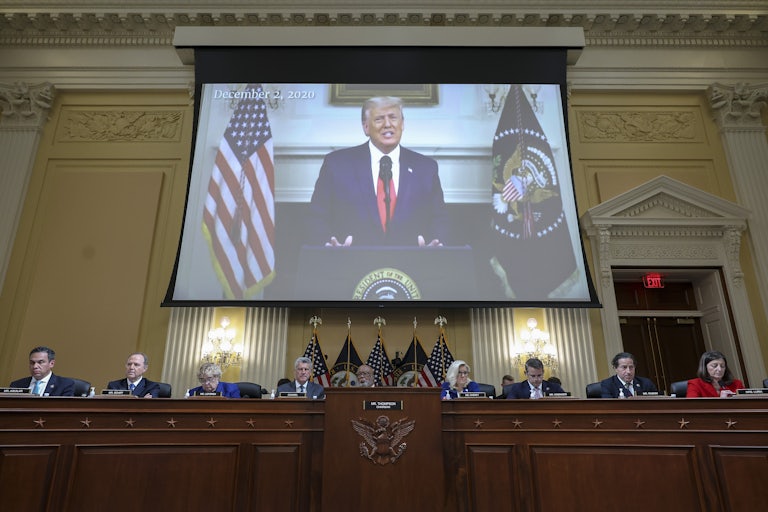 Alex Wong/Getty Images/Bloomberg via Getty Images
Footage of Donald Trump is played on a screen during a hearing of the Select Committee to Investigate the January 6th Attack on the U.S. Capitol, in Washington, D.C., on October 13.
The House select committee investigating the January 6 attack on the Capitol on Monday unanimously recommended the Department of Justice pursue criminal charges against former President Donald Trump.

The committee voted to ask the Justice Department to pursue at least four criminal charges against Trump related to the January 6 attacks: obstructing an official proceeding, conspiracy to defraud the United States, conspiracy to make false statements, and inciting or assisting an insurrection.
The panel also recommended the Justice Department pursue at least two criminal charges against Trump lawyer John Eastman, for obstructing an official proceeding and conspiracy to defraud the United States.
"We understand the gravity of each and every referral we are making today, just as we understand the magnitude of the crime against democracy that we described in our report," said committee member Representative Jamie Raskin. "We have gone where the facts and law lead us, and inescapably, they lead us here."
Moreover, the committee referred four Republican members of Congress to be sanctioned by the House Ethics Committee, citing their defiance of complying with congressional subpoenas. They are Representatives Kevin McCarthy, Jim Jordan, Andy Biggs, and Scott Perry.
The committee will also publish a final report Wednesday that will lay out further details of the comprehensive probe that has interviewed over 1,000 people, reviewed over one million documents, and subpoenaed dozens of people, including Mark Meadows, Stephen Bannon, Representative Kevin McCarthy, alongside Trump.
While the January 6 panel's investigations come to a close, and criminal and ethics referrals are made, other investigations continue. A Georgia-based investigation into efforts to overturn the 2020 election results has called individuals including Meadows, Senator Lindsey Graham, and others to testify and hand over documents.
This piece was updated.