What Was Trump Thinking With That NFT Video?
Critics are enamored: "Very … unique." "Wow." "Incredible."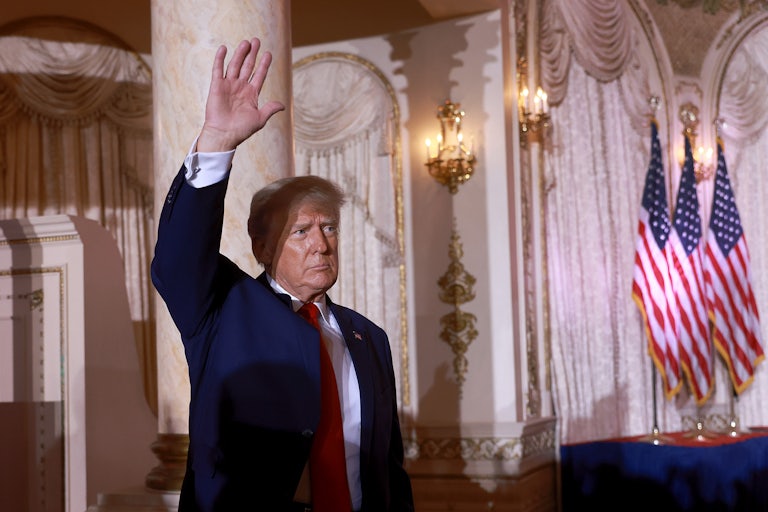 Joe Raedle/Getty Images
On Thursday, former President and now–2024 candidate Donald Trump announced his next big pursuit: NFTs of himself, cheaply superimposed onto valorous figures like Superman or astronauts.
"This is Donald Trump," the video announcement begins, following an animation of him shooting lasers out of his eyes, ripping open his shirt to reveal a Superman-inspired T. "Hopefully your favorite President of all time—better than Lincoln, better than Washington."
Trump then introduces the "Trump Digital Trading Cards" as "the really incredible artwork pertaining to my life and my career—it's been very exciting," words suggesting Trump has had real-life experience serving as Superman and exploring space.
The video alternates mostly between two views: one with Trump narrating in a box, as samples of the cards are displayed in another box, with a circle showing off the low price of $99 pinned to the corner of Trump's box; the other of a high-res close-up of Trump. CollectTrumpCards.com stands prominently in each oscillating screen view. Fittingly for a man who has embraced Dr. Oz's snake-oil alternative-medicine hustle, as well as Male Vitality tincture–proffering Alex Jones, Trump now seems to have found his true metier promoting artificially valued self-glorifying drawings in an overhyped infomercial.
Throughout, Trump's voice dissonantly overlays a swelling refrain of string instruments. Around the 34-second mark, Trump says, "You can collect your Trump Digital Cards just like a baseball card …" with the music comically climaxing as Trump finishes "or other collectibles."
The discordance of the noble music with Trump's narration feels almost self-aware. As if Trump recognizes how unimaginably dull this venture is, or how deeply pathetic it is to be running for president for the third time in a row just to be pawning off digital copies of boyhood dream–ified versions of yourself while you haven't even locked up as many congressional endorsements as Cory Booker, who dropped out before the Iowa caucuses, had upon announcing.
Trump notes that each purchase comes with an entry into sweepstakes to win prizes like dinner or a Zoom call with him, or a round of golf at one of his golf courses, or even autographed memorabilia. "Remember, Christmas is coming, and this makes a great Christmas gift," he adds by way of conclusion. In the fashion of a grade-school video project, the music hastily cuts as an abrupt voiceover notes, "No purchase necessary, void where prohibited," over another animation of SuperTrump shooting lasers out of his eyes.
The much-hyped announcement seems to have left Trump's fans disappointed or speechless. For everyone else, the ad is simply meme-able. Trump's announcement of these NFTs, and his note that they can be purchased using cryptocurrency, comes while Sam Bankman-Fried's crypto empire burns and the market overall struggles to tread water.