Power Substations Across the Country Keep Getting Attacked. What Gives?
A Homeland Security report warned that extremist groups have identified the electric grid as a "particularly attractive target."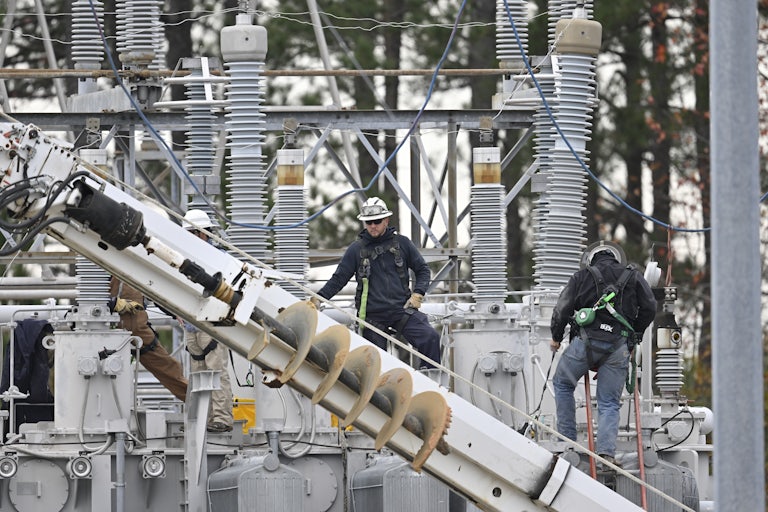 Peter Zay/Anadolu Agency/Getty Images
A view of the substation while work is in progress as tens of thousands were without power after an attack on two Duke Electric substations in Carthage, North Carolina, December 5
There have been at least 14 attacks on power stations across the country this year.

On December 3, two North Carolina power stations were struck with gunfire, leading to some 40,000 residents being without power, many of them for days.

Since mid-November, Oregon's and western Washington's electrical grids have been host to six attacks—some led by people with firearms—leaving customers experiencing brief outages in both states.

And in September, substations in Florida were targeted six times, with intruders forcing entry and tripping equipment that caused brief outages.
Federal agencies are becoming increasingly concerned amid the string of attacks. On December 2, the FBI co-issued a memo warning utilities about the attacks. North Carolina's stations were attacked just a day later.
At the end of November, the Department of Homeland Security warned that "lone offenders and small groups" were continuing "to pose a persistent and lethal threat to the Homeland," including on U.S. "critical infrastructure."
In January, The Daily Beast obtained an earlier DHS intelligence report warning that extremist groups identified the "electric grid as a particularly attractive target given its interdependency with other infrastructure sectors."
And earlier this month, CNN obtained a 14-page document circulating on Telegram that included a white supremacist instruction guide for how to conduct low-technology attacks that foment chaos, including attacking a power grid with firearms.
"When the lights don't come back on … all hell will break lose [sic], making conditions desirable for our race to once again take back what is ours," the document reads.
In February, three men pleaded guilty of plotting to attack substations with firearms; the trio were alleged white supremacists who had for years strategized how to incite civil unrest, a potential race war, and subsequently the second Great Depression.
The infrastructure connecting the nation is under increasingly high threat. And if enough light isn't shined on what's going on, we may soon lose that light, literally.