As Hundreds of Twitter Workers Mass-Resign, Elon Musk Posts Stolen Memes
Imagine shitposting through the destruction of your $44 billion website.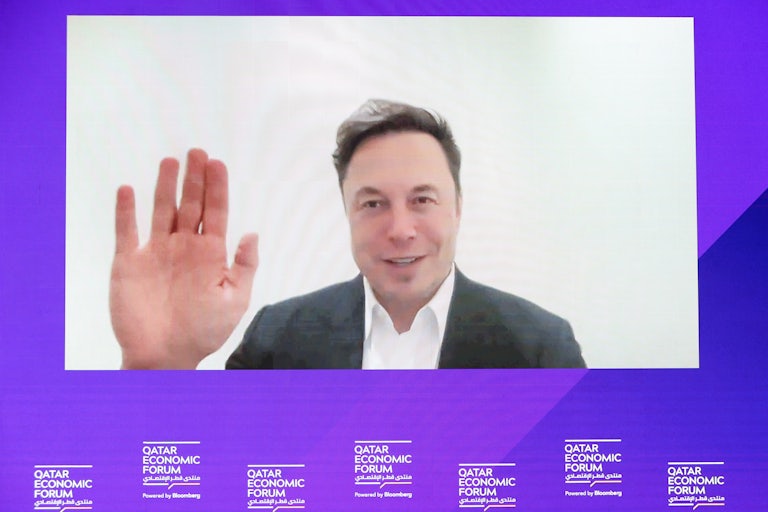 Christopher Pike/Bloomberg/Getty Images
Picture this. You spent $44 billion on Twitter, which serves around 400 million people worldwide. Upon acquisition, you, for some reason, feel the need to haphazardly lay off half the around 7,500-person staff. Some of your ensuing made-on-a-whim decisions lead to even more staff leaving. You become fed up and decide to offer workers an ultimatum: Stay to work "extremely hardcore" hours or leave the company.
Unsurprisingly, most of those who remain decide to resign en masse.

By this point, a normal person would realize their mistakes. But not Elon Musk.

On Thursday, hundreds of Twitter employees resigned, many of them on teams critical to the functioning of the website. As doubt circulated about whether Twitter would even survive till the next day, Musk spent the night posting memes (and stealing some).
Or he just encouraged people to leave the website entirely.
As much as Musk's behavior can be ridiculed, his actions—and inaction—warrant serious attention. Beyond the thousands of workers who have now lost their jobs, the platform itself has been crucial: in sharing news, connecting people together, and giving voice to the marginalized.
While Twitter may not crash all at once, its stability is now up in the air. It could shut down technically, financially, or even perhaps by regulatory oversight. Either way, the saga should disprove once and for all the notion that wealth or specialized success has anything to do with broader intelligence.