House Approves Bill To Let Puerto Rico Decide Its Own Future
The House of Representatives voted to let Puerto Rico hold a binding referendum on whether to gain independence or become the 51st U.S. state.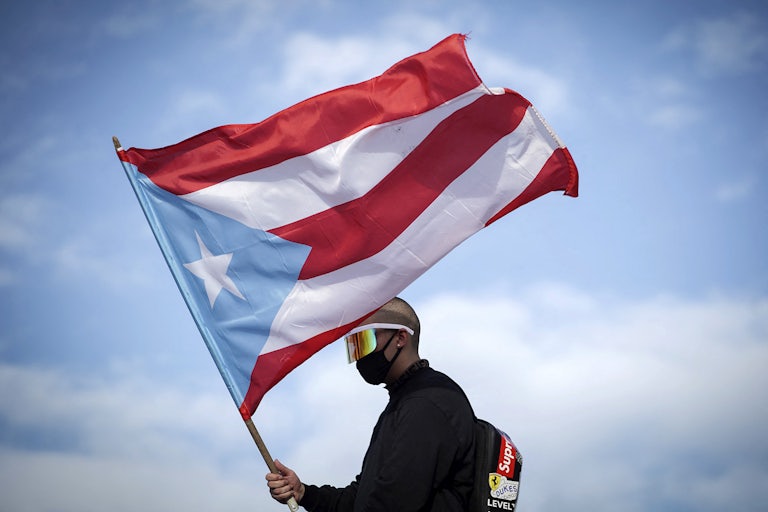 ERIC ROJAS/AFP via Getty Images
The House of Representatives voted Thursday to let Puerto Rico hold its first-ever binding referendum on whether to gain independence or become the 51st U.S. state.
The bill passed 233-191. Puerto Rico voters will be able to choose whether to join the United States as a full state, to gain independence, or to gain independence with free association, meaning it would operate as a sovereign nation but receive certain benefits and funding from the U.S.
New York Representative Nydia Velazquez, the first Puerto Rican woman elected to the House, hailed the bill's passage.
"It is an embarrassment to the United States—the United States that holds itself up as a leader of the free world, that stands up to the imperialist tyrants abroad, while keeping colonies in the Caribbean and the Pacific," she told The New York Times. "Congress has the moral obligation to provide the necessary tools to transition to a new, postcolonial order."
The bill now goes to the Senate, where it is unlikely to pass. Even with the Democrats keeping control of the chamber, the legislation will need 60 yes votes to advance, and Republicans have expressed opposition to the island nation gaining statehood.
Although the GOP's official party platform supports statehood for Puerto Rico, the platform has not been updated since 2016. In the six years since, Republican legislators have backed away from the issue over concerns that Puerto Rico would elect more Democrats to Congress.
They may not have anything to worry about, though. Puerto Rico politics have seen a recent push in social conservatism. The island has also already held seven non-binding referendums on its political status, and none has produced a clear preference.
The last non-binding referendum was held in November 2020. Only about half of registered voters participated, with 53 percent voting for statehood and 47 percent voting against.