Trump Organization Found Guilty on All Counts of Tax Fraud
A Manhattan jury found the Trump Organization guilty on all counts of tax fraud and related crimes.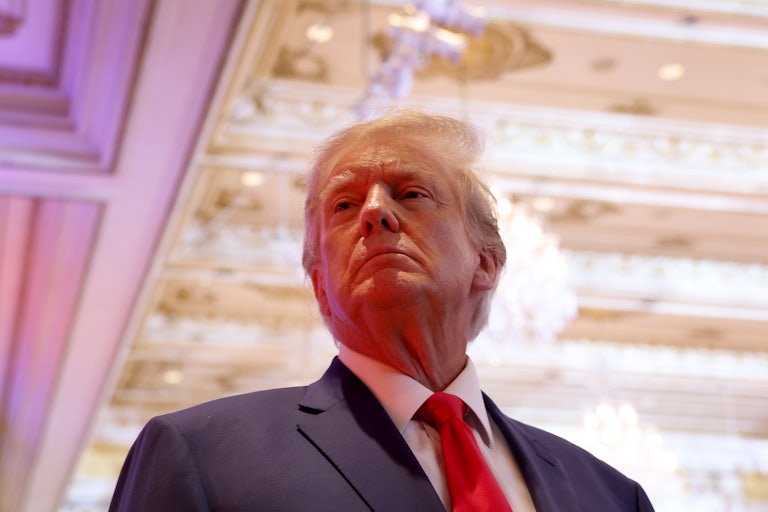 Joe Raedle/Getty Images
A Manhattan jury on Tuesday found the Trump Organization guilty on all charges of tax fraud and related crimes, connected to a 15-year scheme wherein top executives were compensated off the books with luxurious secret perks, subsequently enabling them to evade paying taxes.

Two Trump Organization companies—Trump Corp. and Trump Payroll Corp.—were convicted on 17 criminal counts, including scheming to defraud, conspiracy, tax fraud, and falsifying business records. The companies could face a maximum $1.6 million fine when sentenced next month.
Donald Trump, whose presidency benefited greatly from the company, will now be freshly associated with the criminal activity attached to the organization sporting his name as he seeks to regain the presidency.

Though Trump himself evaded any implication in the scheme, prosecutors said it was "sanctioned" and "the practice was known to Mr. Trump." They have also indicated Trump himself remains under investigation.
The trial centered on testimony from longtime Trump Organization CFO Allen Weisselberg, who has worked with Trump's family for nearly 50 years and who was testifying as part of a plea deal. In August, Weisselberg pleaded guilty to evading taxes on nearly $2 million in perks from the company. His testimony detailed the Trump Organization's tactics to avoid payroll taxes and award high-level executives with perks like lavish apartments, private school tuition, and vehicles.
Numerous documents implicate some level of involvement from Trump. There was even a witness, Jeff McConney, the senior vice president at Trump Corp., who at first implicated Trump in the scheme but then walked back that testimony. McConney's legal fees are paid for by the Trump Organization.
Meanwhile, Trump is still facing investigations on all sides—on the state and federal level—for his seizure of classified documents after he left the White House, his efforts to overturn the 2020 election, and the accuracy of the Trump Organization's financial records and valuations. The guilty verdict for his namesake organization today only adds fuel to the fire driving these investigations.
While the Trump Organization has been found guilty by the Manhattan district attorney's investigation, the New York attorney general is also pursuing a $250 million civil lawsuit into whether Trump's asset valuation statements were indicative of fraud. Among financial penalties, Trump and his family could be barred from leading business operations in New York ever again.
This story was updated.

Read more at CNN.