Why Is Lindsey Graham Chaperoning Herschel Walker's Interviews?
Graham is speaking for the Georgia Senate candidate in his interviews.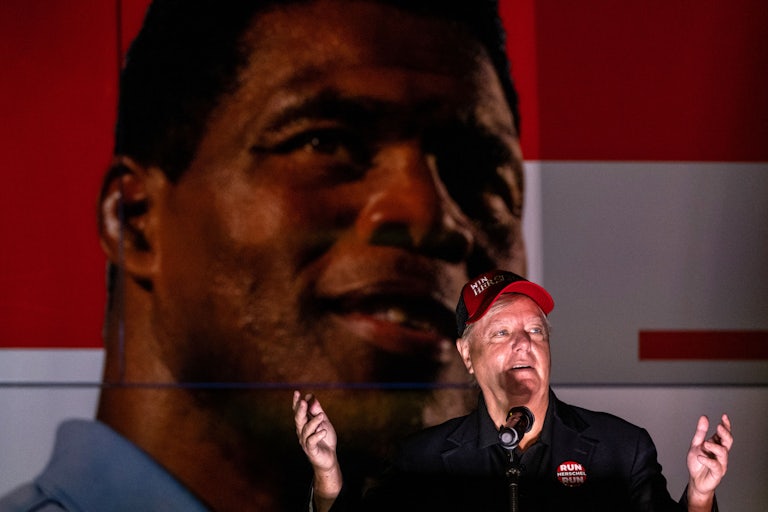 SETH HERALD/AFP/Getty Images
South Carolina Senator Lindsey Graham's relationship with Herschel Walker is, simply put, a little weird.

On Thursday, Graham appeared on Fox News alongside the senatorial candidate. While Walker is the one running in Georgia's January Senate runoff, it did not necessarily feel that way:
"[Warnock] supports abortion on demand, taxpayer-funded, up to the moment of birth," Graham said falsely. "Herschel knows that's wrong." All the while, Walker sits in silence, nodding.
The moment is just that, one moment. But that Graham seems to be almost hand-holding Walker throughout the campaign is an appearance hard to shake. Especially as this instance is part of a larger, uncomfortable pattern of Graham instrumentalizing Walker.
Last month, Graham explained what Walker's candidacy does for Republicans. "He changes the entire narrative of the left: We're a party of racists," Graham said. "Well, what happens when the Republican Party elects and nominates Herschel Walker, an African American, Black Heisman trophy winner? … It destroys the whole narrative."
Last week, Graham, a white man, brought himself to tears while pleading with Fox News viewers to support Walker's campaign, arguing if Democrats are allowed to "destroy" Walker and his family, "it will deter people of color from wanting to be a conservative Republican." As if Walker is more of an abstract idea that influences people of color, rather than a human candidate for people to support.

(Graham neglects that Walker's own family has criticized him. His son Christian has accused Walker of threatening to kill the family, forcing them to retreat "over 6 times in 6 months.")
It is a spectacle to watch Graham's behavior. It's typical for a candidate to have campaign surrogates and shared media appearances. But it's less than normal for a sitting senator to continually appear alongside a candidate, hand-holding them through questions and assuring the public that they're a good conservative.