Georgia Voters React to Herschel Walker Being Herschel Walker in New Warnock Ad
Georgia voters were dumbfounded by real things Republican candidate Herschel Walker said.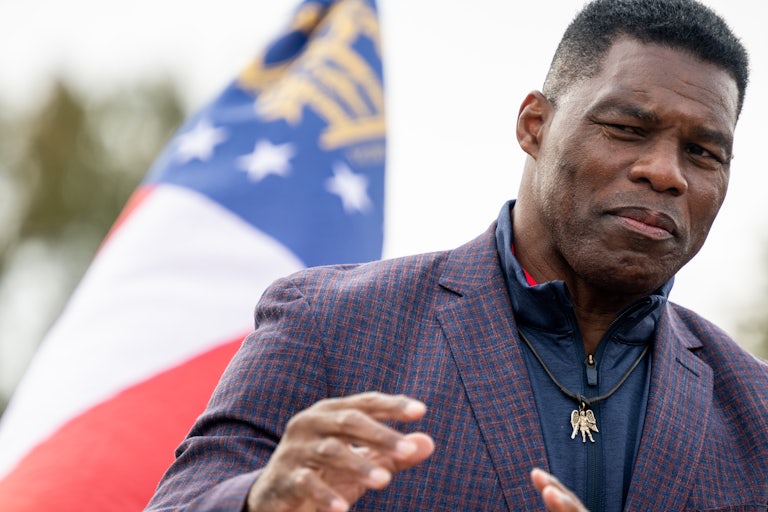 Brandon Bell/Getty Images
It is just over a week before the Georgia runoff election between Democratic incumbent Raphael Warnock and Republican challenger Herschel Walker. The fate of the Senate—whether it will remain a 50–50 Democratic majority by tie-break, or outright 51–49 Democratic advantage—is up in the air.

A typical candidate might rise to the occasion and maintain a strong, focused message. But not Walker, as the Warnock campaign's latest ad notes. From his unintelligible rambling to his outright lying, Walker has left voters wondering: "Y'all serious about this, right?"
"Not only does it make no sense—I don't even understand what he thinks he's saying," said one voter.

The ad, released Saturday, includes Walker rambling about how China gets all the "good air" while America has to clean up all the other air. "It's all the same air," another voter responds, exasperated. Each reaction more incredulous than the last.
Just as Warnock was able to contrast himself against a candidate rife with controversy and unlikability in Kelly Loeffler during his last Georgia Senate runoff, he is poised to do the same once more against Walker.

Walker is not only a serial liar, an alleged abuser, viciously transphobic, an ostensible puppet for the GOP, and a potential tax fraudster—he's simply not a coherent person who can connect with voters in any meaningful sense beyond being a rubber stamp for Republicans and their unpopular policies.