At Least 32 Trans People Have Been Killed So Far This Year
The real number is likely far higher, according to a new report from the Human Rights Campaign.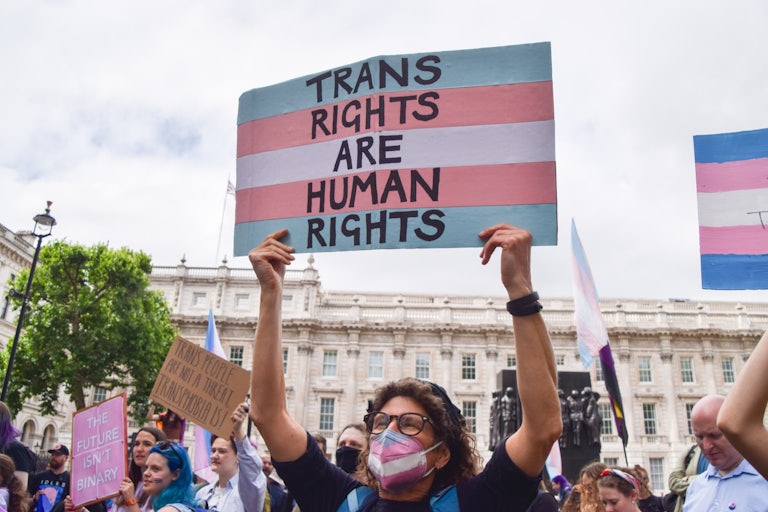 Vuk Valcic/SOPA Images/LightRocket/Getty Images
At least 32 transgender and gender-nonconforming people have been killed this year, the Human Rights Campaign said in a report published Wednesday, a few days before Transgender Day of Remembrance.
The HRC said that the toll could well be higher because anti-trans violence is often misreported or unreported altogether. Almost all the victims listed in the report are people of color.
"While the details of these cases differ, it is clear that fatal violence disproportionately affects transgender women of color—particularly Black transgender women," the report said.
The data does not include people who died by suicide.
The toll is lower than the year before, which saw at least 57 trans and nonbinary people killed. But it comes amid a raft of anti-trans legislation throughout the United States.
State governments, particularly in Republican-led areas, have passed legislation seeking to ban trans girls from playing on girls' sports teams and prevent gender-affirming care in hospitals.
Virginia Governor Glenn Youngkin unveiled a policy in September that requires trans and nonbinary students to get permission from their parents to use their correct pronouns or gendered bathrooms. Even if parents grant that permission, school faculty and staff can still refuse to honor a student's gender.
Ohio's House passed a bill in the spring prohibiting trans women and girls from playing alongside cisgender women and girls. The bill had originally included a horrifying measure that would require anyone suspected of being trans to undergo a genital inspection.
That portion was eventually removed from the bill, which could go before the state legislature for a final vote before the end of the year.
And Florida passed a law in March, nicknamed the "Don't Say Gay" law, that banned discussing sexual orientation or gender identity in the classroom.
Unfortunately More on Anti-LGBTQ Hate