Colorado's Republican Reps Conveniently Forget LGBTQ People in Statements on Shooting
All three representatives avoided mentioning LGBTQ people in their statements on the attack in Colorado Springs.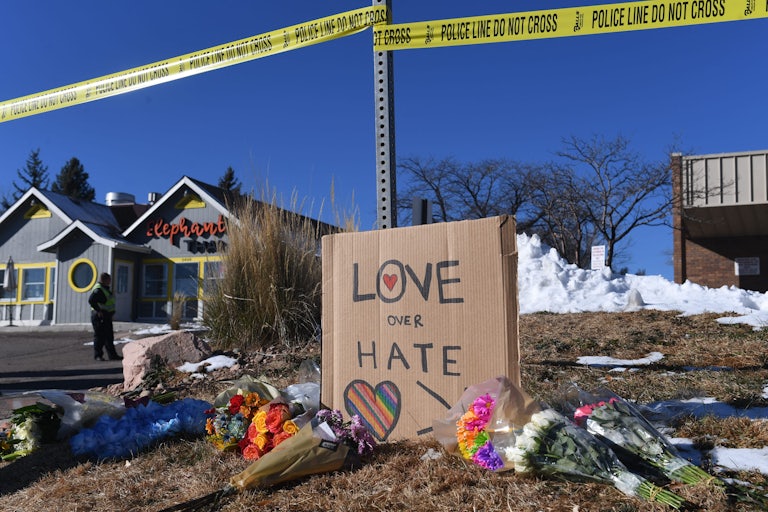 JASON CONNOLLY/AFP via Getty Images
Bouquets of flowers and a sign reading "Love Over Hate" are left near Club Q, an LGBTQ nightclub in Colorado Springs, Colorado, November 20, 2022.
All three of Colorado's Republican representatives neglected to mention that LGBTQ people were targeted in the Colorado Springs mass shooting over the weekend when making statements about the tragedy.
Five people were killed and at least 25 wounded when a gunman entered the queer Club Q and opened fire Saturday night. The shooter has since been charged with murder and hate crimes.
On Sunday, Lauren Boebert, Ken Buck, and Doug Lamborn shared bland, anodyne statements expressing their condolences and, of course, their prayers. Not a single one of them mentioned that the LGBTQ community was specifically attacked.
Their comments were quickly flooded with people calling out their complicity in creating an atmosphere that led to the attack. All three have a history of homophobia and opposition to gun control.
Conspiracy theorist and election denier Boebert, in particular, has a long track record of horrific bigotry towards the LGBTQ community. She has repeatedly accused queer people of grooming children and spewed vitriol at drag shows.

Coincidentally, the last event advertised on Club Q's Facebook page before the shooting was a drag brunch.
Boebert also appeared on a livestream hosted by a far-right activist who has supported the death penalty for gay people.
And she is staunchly pro-gun. She appeared in a Zoom congressional hearing with a bookshelf full of guns in the background; she and her three children posed with automatic rifles in front of their Christmas tree; and prior to being in Congress, she owned a gun-themed restaurant called Shooters Grill.
Since the Club Q shooting, her website continues to sell a mug, a hat, and stickers mocking trans and non-binary people that say, "Non-Bidenary," and a baseball cap that says her name, with the L replaced by the outline of a handgun.