37 Republican Senators Tried To Stop the Marriage Equality Bill From Moving Forward
The Senate has cleared a major procedural hurdle on the bill, but not without opposition from Republicans.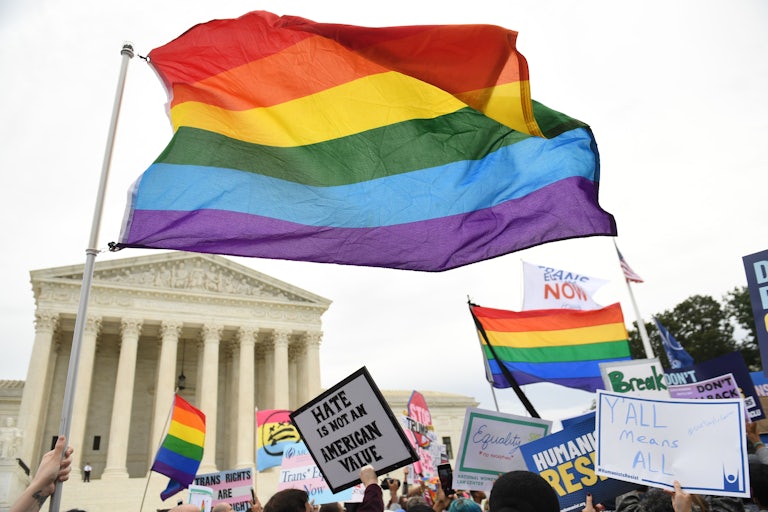 SAUL LOEB/AFP/Getty Images
A total of 37 Republicans senators voted Wednesday, in the year 2022, against advancing a bill that would enshrine marriage equality.
The Respect for Marriage Act, which applies to both same-sex and interracial marriage, would require that two people be considered married so long as their marriage was legal in the state in which it was performed. The act also repeals a 1996 law defining marriage as between a man and a woman, which has remained on the books despite being declared unconstitutional by the Supreme Court in 2015.
Many civil rights activists have warned that after the Supreme Court overturned Roe v. Wade in June, same-sex marriage may be next on the chopping block.
The Senate voted 62–37 to advance the bill and is expected to invoke cloture—meaning decide to make the final vote—as soon as Thursday. The final vote could come by the end of the week or the end of the month.
The chamber had added an amendment to the bill clarifying certain protections for religious organizations. The bill needed 60 votes to succeed in the final vote, and with 12 Republicans joining the Democrats in advancing it, the legislation looks likely to pass.
It will then return to the House of Representatives before President Joe Biden can sign it into law.
The act already passed the House over the summer, although 156 voted against it—including a shockingly hypocritical "nay" vote from Representative Glenn Thompson, who attended his son's same-sex wedding just a week later.
More on Anti-LGBTQ Fear-Mongering