Republicans Are Having a Total Meltdown Over News of the Special Counsel Investigating Trump
Of course they're somehow talking about Hunter Biden again.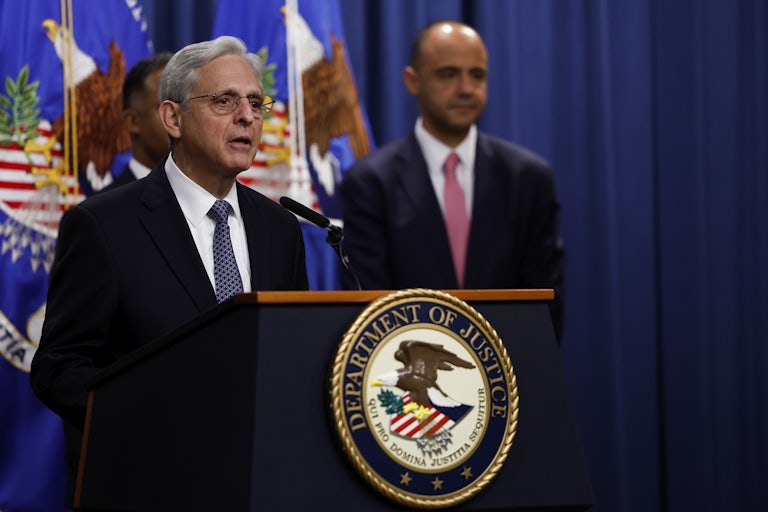 Anna Moneymaker/Getty Images
As soon as Attorney General Merrick Garland appointed a special counsel to investigate Donald Trump, Republicans entered meltdown mode.
Garland announced Friday that he had appointed Jack Smith, a prosecutor at The Hague, to look into Trump's role in the January 6 attack and his handling of classified documents at his Mar-a-Lago estate.
"Based on recent developments, including Trump's announcement that he is a candidate for president in the next election, and the current president's intention to be a candidate in the next election, I have concluded it is in the public interest to appoint a special counsel," Garland explained at a press conference.
Trump's campaign immediately blasted the move, calling it a "totally expected political stunt by a feckless, politicized, weaponized Biden Department of Justice."
And many far-right Republicans also went nuts.
Senator Ted Cruz accused President Joe Biden of using the Justice Department to "attack his political opponents."
"This is Trump derangement syndrome but this time with a gun and badge," he said.
Representative Claudia Tenney said the investigation will move the department's "focus even further away from the real threat to the rule of law: President Joe Biden's role in Hunter's corrupt enterprises."
She wasn't alone, as Senator John Cornyn also called for a special counsel to look into Hunter Biden.
Far-right news outlet Newsmax similarly demanded why there was "no special prosecutor for the Hunter Biden laptop?"
Smith, who has investigated war crimes committed during the Kosovo War, promised for his part to "exercise independent judgment."
The outcry over Smith's appointment shows that Trump still has loyal allies in politics, even if voters and many former backers seem to be turning on him.