Glenn Youngkin, Who Supports No Gun Control, Is Heartbroken Over Virginia Walmart Shooting
The Virginia governor has promised to roll back existing gun control laws in the state.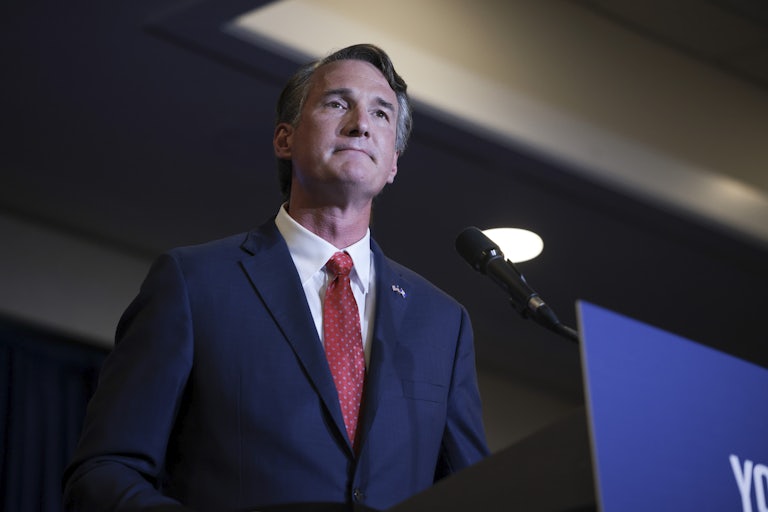 Anna Moneymaker/Getty Images
Virginia Governor Glenn Youngkin, who promised to roll back gun control in the state of Virginia, now says he's heartbroken after the latest shooting in his state.
On Tuesday night, a gunman shot and killed six people at a Walmart in Chesapeake, Virginia, leaving at least another four hospitalized as of Wednesday. The shooting comes just days after a mass shooting in Colorado Springs, Colorado at an LGBTQ club—and less than two weeks after another shooting at the University of Virginia in Charlottesville that left three students dead.
But in expressing his condolences on the string of tragedies, two of them in Virginia, Youngkin could not even muster the words "gun" or "shooting."

Here's the governor after last week's shooting in Charlottesville:
And a few hours later:
And here he is, on the shooting in Chesapeake:

Virginia enacted some gun control measures in 2020, signed by Democratic Governor Ralph Northam after a gunman killed 12 people at a Virginia Beach municipal building a year earlier. This did not include a ban on assault weapons.

State Republicans have spent much of their time attempting to repeal these provisions—including laws that simply require concealed handgun permits and mandatory classes prior to obtaining those permits.
Youngkin has endorsed efforts to roll back these laws, and has also promised not to sign any other gun-control legislation while in office. Instead, he has suggested funding school resource officers or addressing the "mental health crisis."
While mental health services surely need more resources in America, numerous studies have disproven the supposed link between mental illness and mass shootings. Moreover, addressing mental health doesn't substitute the simple act of making it harder for potential shooters to get guns.
Youngkin has had much to say on stripping transgender schoolchildren's rights, passing state abortion bans, and stopping schoolchildren from reading about racism, but has offered very little on what he would do to actually keep his residents safe.
At a forum last year, when Youngkin was asked what gun safety measures he would support if elected governor, he replied, "I think we need to be fully clear: none."