Former CIA Chief Mike Pompeo Calls Teachers Union Leader "Most Dangerous Person in the World"
One person has pushed for drone strikes in Afghanistan. The other wants teachers to be treated fairly.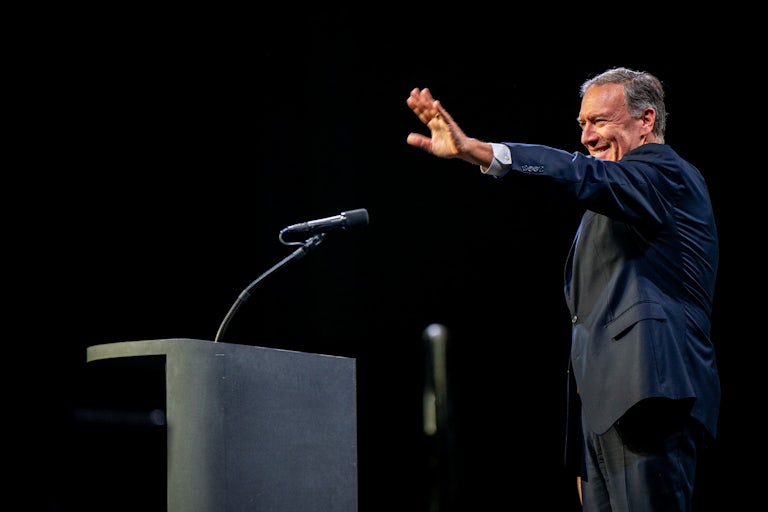 Brandon Bell/Getty Images
Former Secretary of State and CIA Director Mike Pompeo claims the president of the American Federation of Teachers (AFT) union, Randi Weingarten, is the "most dangerous person in the world."
"I tell the story often — I get asked 'Who's the most dangerous person in the world? Is it Chairman Kim, is it Xi Jinping?' The most dangerous person in the world is Randi Weingarten," Pompeo, who pushed for covert drone strikes in Afghanistan, said in an interview with Semafor published Monday.
"It's not a close call. If you ask, 'Who's the most likely to take this republic down?' It would be the teacher's unions, and the filth that they're teaching our kids, and the fact that they don't know math and reading or writing," the former top U.S. diplomat added.

Pompeo, who in 2017 did not disclose that his business imported oilfield equipment from a Chinese government-owned company, tied his supposed concern for kids with an angst for China.
"If our kids don't grow up understanding America is an exceptional nation, we're done. If they think it's an oppressor class and an oppressed class, if they think the 1619 Project, and we were founded on a racist idea — if those are the things people entered the seventh grade deeply embedded in their understanding of America, it's difficult to understand how Xi Jinping's claim that America is in decline won't prove true," Pompeo said.
"...We should ban every element of Chinese technology that sits inside our ecosystem," Pompeo said later. "The Chinese Communist Party is coming for your kids."
Weingarten responded to the interview on Twitter, focusing less on Pompeo's attacks and more on an affirmative vision of AFT's efforts:

If this is a preview of Pompeo's 2024 run for president, his case is already falling flat.