A Desperate Rudy Giuliani Is Quickly Losing His Legal Team
Things are not looking good for one of Donald Trump's biggest allies.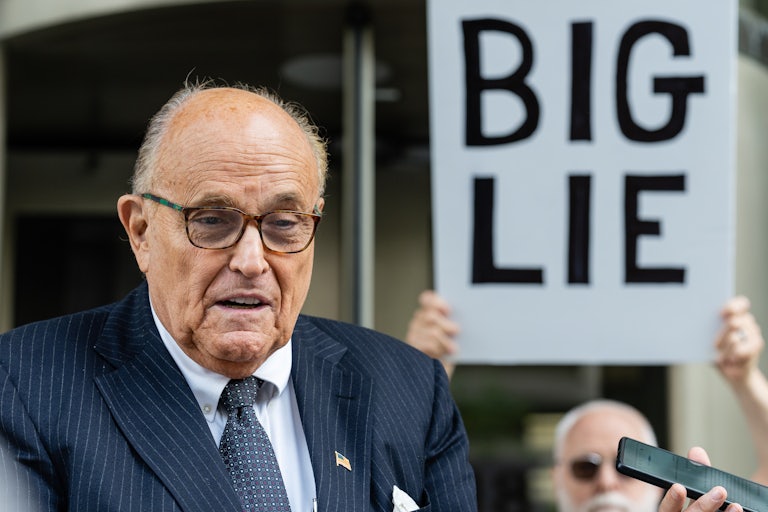 Eric Lee/Bloomberg/Getty Images
Another one of Rudy Giuliani's lawyers has withdrawn from representing the former New York mayor in Fulton County, Georgia.
Giuliani was charged in Georgia with felony racketeering, alongside Donald Trump and 17 other co-defendants, for his efforts to try to overturn the state's 2020 election results. Giuliani's lawyer David Wolfe withdrew last week from representing Giuliani in that case.
Now, a second Giuliani lawyer, Brian Tevis, has also filed a motion to withdraw. The document, filed Tuesday evening, does not specify why Tevis chose to leave Giuliani's legal team. Wolfe also had not indicated why he was withdrawing.
Several of Giuliani's former lawyers, including his longtime attorney Robert Costello, have sued Giuliani for failing to pay their legal fees. And now, Tevis's departure appears to leave the Trump ally without a local lawyer in Georgia.
Giuliani may have to end up representing himself in Georgia—a tactic he is already employing to save some cash. The man once affectionately known as "America's mayor" is scrambling to find the money for all his legal fees, and even listed his Manhattan apartment for sale in July. In August, after he was indicted in Georgia, Giuliani asked his social media followers to donate to his defense fund.
He also flew to Mar-a-Lago to beg Trump to pay him for working as Trump's personal attorney. That didn't work, but Trump did agree to host a fundraiser dinner for Giuliani. Entry cost $100,000 a plate, but Giuliani paid Costello just $10,000 in September.
In addition to the racketeering charges in Georgia, Giuliani was ordered to pay more than $130,000 to Ruby Freeman and Shaye Moss. The two women served as 2020 election workers in Georgia, and Giuliani falsely accused them for months of fraud.
Giuliani's third ex-wife says he owes her more than $260,000 for her country club memberships, condominium fees, and health care as part of their divorce settlement. Giuliani narrowly avoided jail time over that lawsuit in December. And one of Giuliani's former associates sued him in May, accusing him of promising to pay her a $1 million annual salary but instead raping and sexually abusing her over the course of two years.