Becca Balint Will Be Vermont's First Woman and Openly Gay Representative in Congress
The Democrat has spoken out about her concerns for LGBTQ youth, who have been targeted by state legislatures across the country.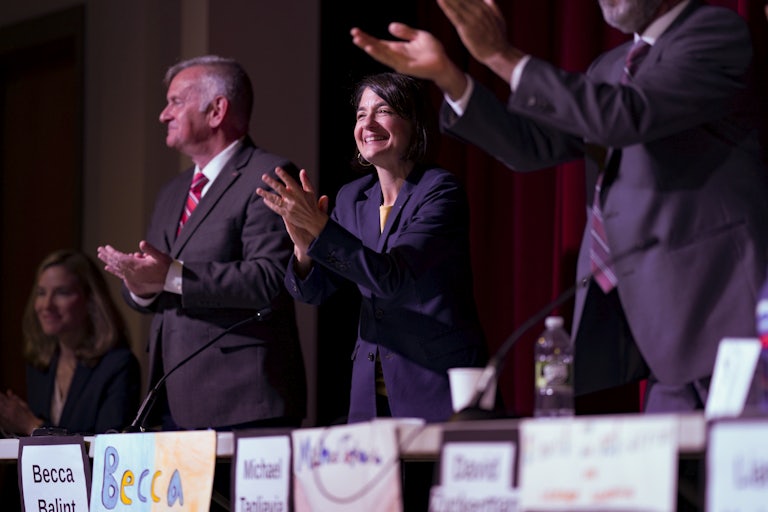 Bonnie Jo Mount/The Washington Post via Getty Images
Democrat Becca Balint has defeated Republican Liam Madden and won the Vermont at-large congressional race.

Balint's victory was not unexpected in blue Vermont, but her election still marks history. The newly-elected representative will be the first woman and first openly gay person Vermont sends to Congress.
The seasoned legislator was widely seen as the progressive candidate throughout the primary and election season. Balint has served in Vermont's state Senate since 2015, and was the first lesbian elected to the chamber. In 2017, she was selected as majority leader of the Democratic caucus, before becoming the first woman to serve as president pro tempore in 2021.
Balint's campaign focused not only on her time in the state legislature, but on how her personal background has guided her worldviews.

Embroiled in depression as she first came out, Balint sought a therapist who would accept her sexual orientation. "It absolutely saved my life," she said, "and if it had been handled differently, I honestly don't know if I would be here." Years later, she finally told her parents, who offered to take her to a therapist to "fix" her—an offer she refused.
Now, as an elected official, Balint has joined efforts in the state legislature to support transgender youth seeking medical care, and to prohibit conversion therapy.

Balint was born in a U.S. Army hospital in Germany, where her Hungarian Jewish father was stationed at the time. His father, Balint's grandfather, was killed during the Holocaust, Balint wrote in a personal blog, when he fell behind on a forced march after trying to help another ailing prisoner.

"One ongoing toll of the Holocaust and indeed of all totalitarian regimes…is that we start to doubt our neighbors' basic humanity. We come to believe it's safer to keep them at a distance because people can sometimes be so horribly callous," Balint wrote. "This is the family story I am trying to change. I believe strong neighbors make strong democracy."