Election Deniers Are Outraged by Arizona's Voting Machine Issues, Even Though People Can Still Vote
There are issues with some tabulators in Arizona's Maricopa County, but in reality, people can still cast their vote.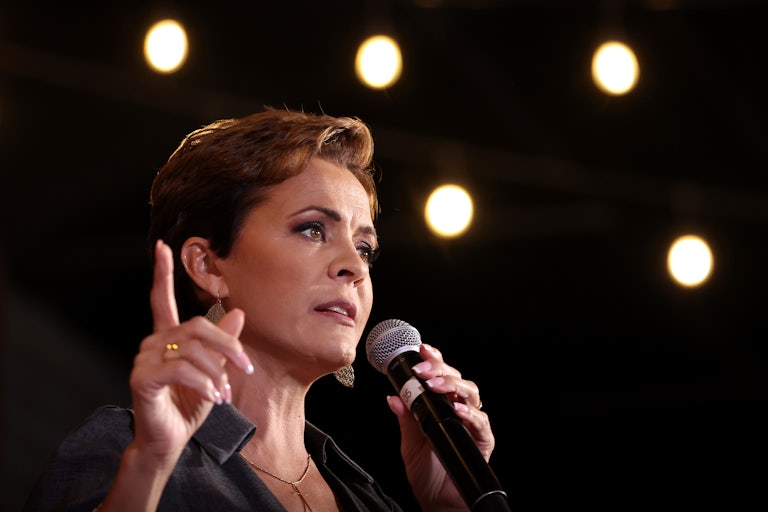 Justin Sullivan/Getty Images)
Conspiracy theories of election rigging are already swirling Tuesday after some Arizona polling stations reported issues with their vote-counting machines.
About 20 percent of polling stations in Maricopa County, the state's most populous county, were experiencing problems with their tabulator machines, according to election officials. The ballot would not run through the tabulator, but officials were prepared for such a scenario.
The Maricopa County Elections Board explained on its official Twitter account that people could still vote by dropping their ballots in a lockbox attached to the machines or by going to another one of the 223 voting stations.

But right-wing figures seized on the report anyway, accusing the state government of trying to rig the election in favor of Democrats.
"Reports are coming in from Arizona that the Voting Machines are not properly working in predominately Republican/Conservative areas," former President Donald Trump said on TruthSocial. "Here we go again? The people will not stand for it!!"
Steve Bannon and Stephen Miller, both extreme-right figures and former advisors to Trump, accused Democrats of trying to steal the election, with Miller complaining about a "third world voting system."
Arizona Republican Party chairwoman Kelli Ward, who is being investigated for her role in the attempted January 6 coup to steal the election, tried to cast doubt on all of the tabulators' accuracy. "How did all of the machines in Maricopa miraculously work over the last few days when they were 'tested & certified' with test votes & test ballots…but now they won't work for real voters & real ballots?" she tweeted.

Others have accused Katie Hobbs, the Democratic secretary of state who is also running for governor, of being behind the issue.
"The problems you are witnessing in Maricopa County are thanks to two people who are on the ballot today: KATIE HOBBS & ADRIAN FONTES," tweeted Tyler Bowyer, a member of conservative group Turning Point USA, also referring to the Democratic candidate for Arizona secretary of state.
Hobbs' opponent MAGA Republican opponent Kari Lake, who continues to refuse to accept the results of the 2020 election, has retweeted multiple posts blaming Hobbs for the problems.
Hobbs, of course, does not oversee the technical maintenance of voting machines, and the Maricopa County Board of Supervisors is made up primarily of Republicans.
Arizona is a crucial swing state that, in a major twist, went for President Joe Biden in the 2020 election. The state has struggled particularly hard with election fraud conspiracies as Trump continues to falsely claim for years that the election was stolen from him.
After the 2020 election, the state's Republican Party supported a massive recount of the votes that ultimately found no evidence of voter fraud. Ironically, the recount was demanded in part because Trump and other Republicans claimed the electronic voting machines had been hacked.