Arizona Judge Denies GOP Request to Extend Voting, Says There's No Evidence People Couldn't Vote
Conspiracy theorists are pointing to a problem with voting machines in Arizona's Maricopa County, but voters could still drop off their ballots.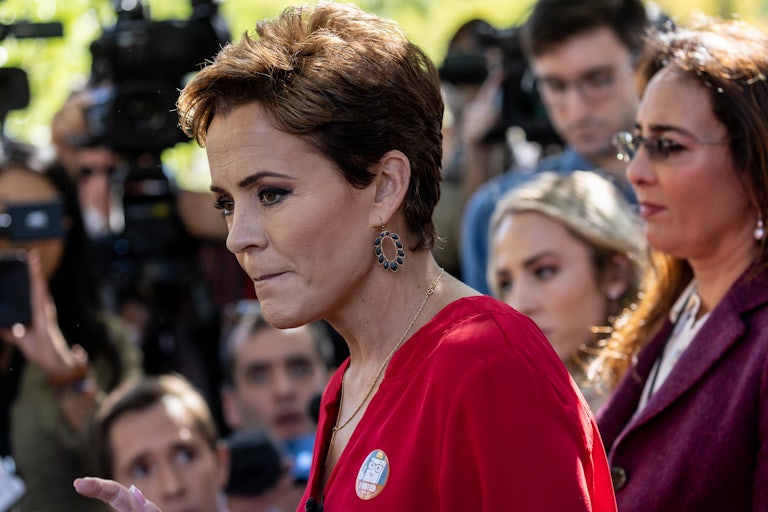 John Moore/Getty Images
Kari Lake
There was a strange back and forth about voting in Arizona's Maricopa County on Tuesday, which resulted in a judge denying a request to extend voting in the county beyond normal hours.

It started with a problem with tabulator machines in the county that sparked worries (and some suspicion among conspiracy theorists) that voters in the country wouldn't be able to cast their ballots. The Republican National Committee, the National Republican Senatorial Committee, Republican gubernatorial nominee Kari Lake, and Republican Senate nominee Blake Masters filed a joint lawsuit the same day seeking to extend voting by a few hours. In response, the campaign for Senator Mark Kelly, the incumbent and Masters' Democratic opponent, filed a lawsuit arguing against extending voting in the county.

"At the eleventh hour of this election, Plaintiffs seek the drastic remedy of changing the rules of the election, while it is occurring, in the hopes of obtaining an electoral advantage," the lawsuit wrote. "But there is no evidence that any voter who appeared to vote at Maricopa County polling places was turned away from the polls or that voting today in Maricopa County was substantially impeded."
Indeed, the voting machine issue didn't stop people at those polls from voting. Voters were simply told to instead drop their ballots off in a lockbox attached to the machines.
Late Tuesday night, a Superior Court judge for Maricopa County denied the Republicans' request to extend voting by a few hours, saying there wasn't strong enough evidence that voters were unable to vote within the original period of time.

The Maricopa voting machine problems garnered scrutiny from law enforcement and election officials, who moved throughout the day to quell fears that people weren't able to cast their vote. Former President Donald Trump said, without evidence, "there's a lot of bad things going on" in Maricopa County. But officials with the Department of Homeland Security's Cybersecurity and Infrastructure Security Agency (CISA) stressed that despite some hiccups, voters were still able to vote.

"We have no indication of malfeasance or malicious activity," a CISA official told reporters Tuesday afternoon.