Herschel Walker Seems Unclear on What Chamber of Congress He's Running for
The Georgia Senate candidate forgot he was a Georgia Senate candidate.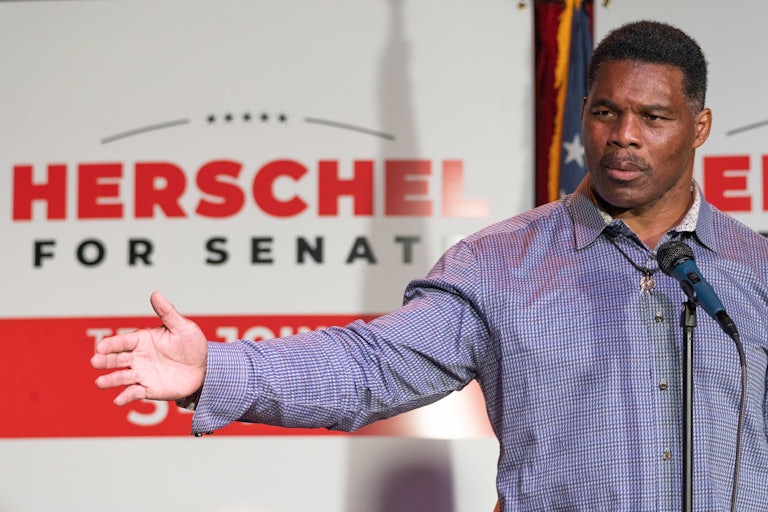 Megan Varner/Getty Images
Georgia Senate candidate Herschel Walker may not even know what chamber of Congress he's running for.
In the final weekend before Tuesday's runoff race, Walker and his opponent, Democratic incumbent Raphael Warnock, both hosted multiple events to try and galvanize supporters.
But in an interview with Politico, Walker seemed confused about which house he was running for. He also seemed to think that a victory would mean Republican control of that chamber.
"They're not [less motivated] because they know right now that the House will be even so they don't want to understand what is happening right now," he said Saturday about Georgia voters. "You get the House, you get the committees. You get all the committees even, they just stall things within there."
Republicans have taken control of the House of Representatives, but only by a handful of seats. It also remains unclear if the entire party—which is split between Donald Trump loyalists and more moderate lawmakers—will be able to present a united front.
Democrats, however, have kept control of the Senate. A Warnock victory is not necessary for a majority but is still important. If he wins reelection, then Democrats will have an outright 51-49 majority, meaning control over the committees, as opposed to a 50-50 split with a tiebreak.
Walker has made gaffe after gaffe since he started running. He has lied repeatedly and been accused of domestic abuse and forcing partners to get abortions. At his events, he mostly focuses on far-right dog-whistle topics, such as boosting transphobia or railing against pronouns and "wokeness." Republicans rarely let him speak alone in interviews.
Warnock, meanwhile, has pushed hard on issues such as the economy and health care. He has tried to appeal to younger voters and independent or more center-leaning Republicans.
"This is not about Republican and Democrat. This is not about right and left. This is about the difference between right and wrong," Warnock said at a rally on December 1.