Marco Rubio Pretends He Cares About Rail Workers
The Florida senator sent a tweet in support of rail workers, but refused to explain any action he'd actually take to help them.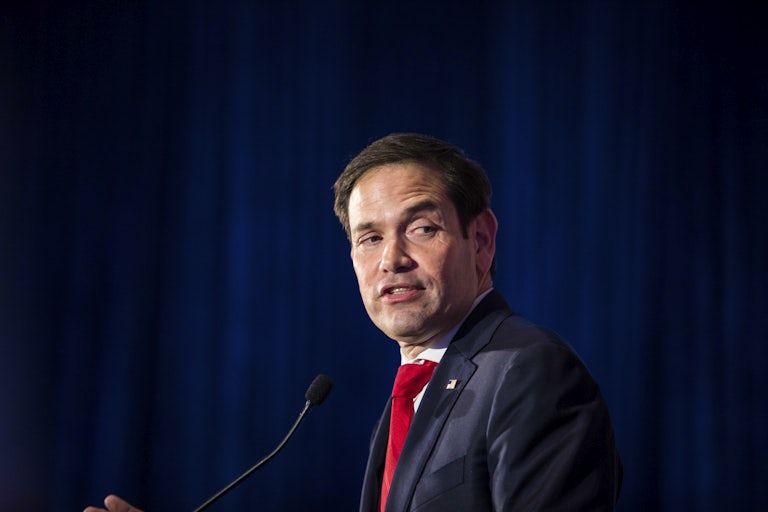 Saul Martinez/Getty Images
A month after Halloween, Marco Rubio got to dust off his favorite costume as a faux-populist. On Tuesday, the Florida senator tweeted in his apparent support for rail workers:
Rubio's tweet comes after President Joe Biden's Monday announcement, in which he called on Congress to pass legislation and block an impending railroad strike.
While the majority of railroad unions voted for the White House-brokered deal, the majority of railroad workers voted against it. A primary worker complaint about the deal is that it lacks paid sick days.
Instead of heeding those complaints, Biden has urged Congress to impose the deal anyways. Now, Rubio is pretending to care about workers—without any specific engagement towards the actual issues workers face.
This isn't Rubio's first rodeo. Last year, Rubio "spoke out" on behalf of unionizing Amazon workers. He avoided expressing actual support of a union itself. Instead, Rubio explained it makes sense workers might want a union in response to "woke" human resources fads.
In other words, Rubio's "support" for workers had little to do with the material conditions they faced, and more with his ability to use them as a vessel for Republicans' continual hollow efforts to stoke culture war. Those efforts continue today.
In his brave tweet, Rubio did not actually specify what would comprise an acceptable deal (like including paid sick leave for workers). He could also speak against nine of his Republican colleagues currently cosponsoring a bill that would force workers to accept a deal without sick leave. And yet.
Despite Rubio—or any other Republicans'—posturing, there is no such thing as a conservative workers' movement. Conservatives (whether Republican or Democrat) are opposed to expanding social welfare or other public programs. They are massive recipients of corporate dollars, from big finance to fossil fuels. And they certainly act in accordance with those dollars.

Biden is dropping the ball for workers here—but let's not pretend Rubio and Republicans actually care about that.