Tom Petty Estate Blasts Losing Candidate Kari Lake for Using "I Won't Back Down" Anthem
The Tom Petty estate said it was exploring all legal options to get Lake to stop using the anthem.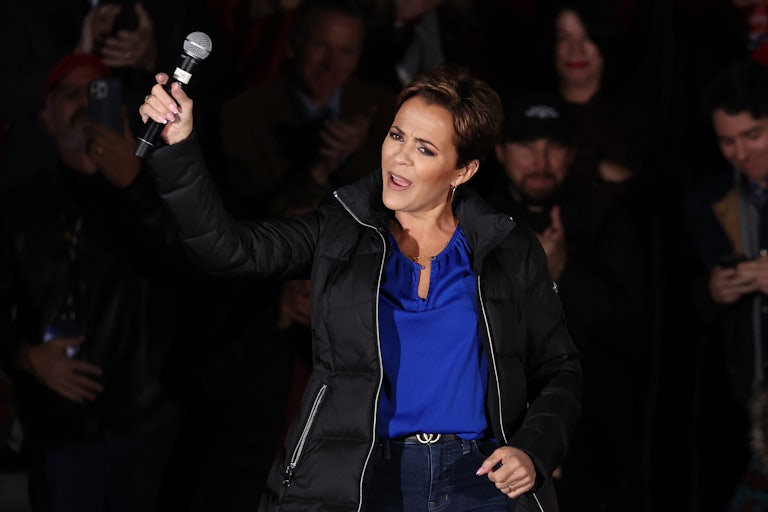 Justin Sullivan/Getty Images
Kari Lake is not backing down from the race for Arizona governor, but she will have to stop using Tom Petty's music.
Lake, who lost the gubernatorial race, has refused to concede and signaled she may challenge the result. She also released a promotional video set to Petty's hit song "I Won't Back Down."
The Petty estate was having none of it.
"This is illegal. We are exploring all of our legal options to stop this unauthorized use and to prohibit future misappropriations of Tom's beloved anthem," the group said on Twitter.
MAGA Republican Lake embraced multiple conspiracy theories on the campaign trail, including that the 2020 presidential election was stolen. It should come as no surprise, then, that she insisted there was fraud in her own election as Democrat Katie Hobbs maintained a steady lead throughout vote-counting—and ultimately won.
Lake is only the latest Republican to fall afoul of Petty and his estate. The musician, who passed away in 2017, had never been shy about making his political stance known.
Petty issued a cease and desist letter to George Bush in 2000 for playing "I Won't Back Down" at campaign events. In 2011, he told Republican presidential candidate Michele Bachmann to stop using "American Girl" in her campaign.
Ultraconservative Bachmann clearly had not listened to the song all the way through, since the lyrics urge: "Oh yeah, all right, / Take it easy baby, / Make it last all night."
And in 2020, Petty's estate forbade President Donald Trump from using "I Won't Back Down" in his reelection campaign.
"We believe in America and we believe in democracy. But Donald Trump is not representing the noble ideals of either," the Petty family said in a statement at the time.
However, in 2012, Petty said he "got chills" when "I Won't Back Down" played as then-President Barack Obama walked onstage at the Democratic National Convention.