Musk Suspends Kanye West From Twitter, Again—This Time for Being a Nazi
The suspension came hours after Ye said he sees good things about Hitler.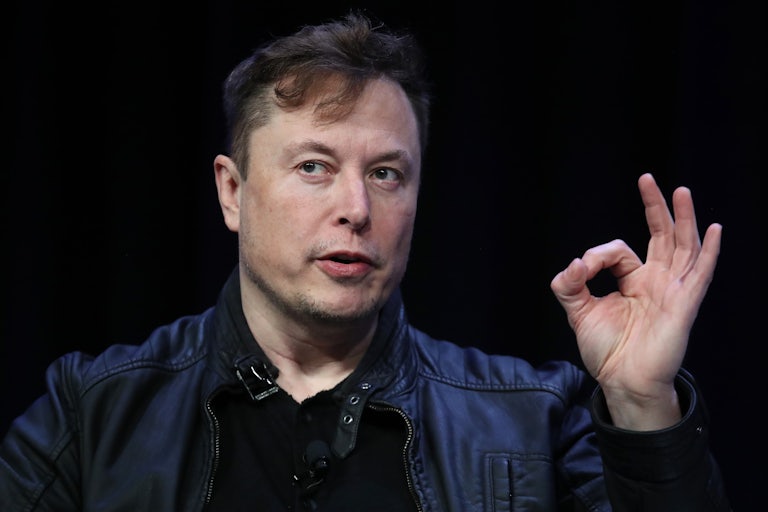 Win McNamee/Getty Images
Elon Musk
Elon Musk has suspended Kanye West from Twitter. Again.
On Thursday, West, alongside antisemite and white supremacist Nick Fuentes and Sandy Hook–denialist Alex Jones, professed to the world that he likes Hitler.
West, known now as "Ye," spent about three hours on Jones's Infowars program on Thursday, filling the entire time peddling Nazi propaganda, Holocaust denialism, and support for Hitler. But even that wasn't enough for him.

Later Thursday night, Ye took to Twitter to post a swastika.
Ye then posted screenshots of a conversation between him and Musk, where the Twitter CEO tried to conduct personal content moderation, telling Ye he had "gone too far."
Musk attempted to lay out what was acceptable and what was not on Twitter. Ye posted a photo of Musk shirtless, with the caption, "Let's always remember this as my final tweet #ye24." To which Musk responded, "That is fine." Musk then replied to the then-removed swastika post, "This is not."
A user responded to Musk, begging him to "FIX KANYE PLEASE."
Musk responded candidly, writing, "I tried my best. Despite that, he again violated our rule against incitement to violence. Account will be suspended."

Based on the screenshots of their text conversation, it really had seemed like Musk tried his best to personally rein in Ye's behavior—but to no avail.
Nevertheless, Musk held steady, tweeting "FAFO" (Fuck Around and Find Out), after West's tweeting privileges were revoked once again. Unfortunately, that tough-guy standard seems mainly concerned with times when users flout Musk personally, rather than with genuine safety and moderation guidelines.

Several prominent liberal accounts have been suspended this week for unclear reasons; meanwhile, hate speech is skyrocketing on the platform. So take Musk's suspension of Ye with a grain of salt. After all, Musk was the one who happily welcomed Ye back to the platform in the first place.