Netanyahu Explicitly (Tepidly) Condemns Trump for Dinner With Antisemite Nick Fuentes
The Israeli prime minister–designate said Donald Trump's dinner with Kanye West and Nicholas Fuentes was a "mistake."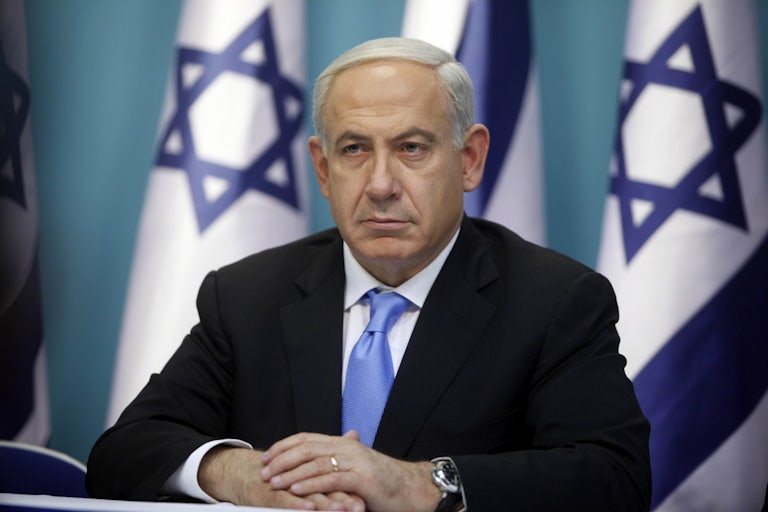 Israeli Prime Minister–designate Benjamin (Bibi) Netanyahu said Wednesday Donald Trump's meeting with a white supremacist was a "mistake," his harshest criticism of the former U.S. president to date.
It has been one week since Trump met with Nick Fuentes, a Holocaust denier and white supremacist, and rapper Kanye West, another outspoken antisemite. Bibi explicitly, and tepidly, condemned Trump for the meeting.
"President Trump's decision to dine with this person I think is wrong and misplaced. I think it's a mistake. He shouldn't do that," Netanyahu said in a fawning interview with Bari Weiss.
"He has been a tremendous supporter of Israel, and I'm unabashedly appreciative of what he did for Israel," he said, adding he thought Trump is "irreverent."
The rest of the interview consisted mostly of Weiss giving Netanyahu a pass to say whatever he wanted. She did not press him on the atrocities committed in Gaza or elsewhere in Palestine, and she allowed him to distance himself from authoritarianism. She also felt it was important to ask him what his favorite book is and who his biblical hero is.
Trump boasted in October that "no President has done more for Israel than I have." That post on Truth Social also contained a veiled threat: "U.S. Jews have to get their act together and appreciate what they have in Israel—Before it is too late!" he added.
While in office, Trump was the only modern president to visit Israel. He recognized Jerusalem as the capital and the Golan Heights as sovereign Israeli territory, the first U.S. president to do so and in violation of international law. His administration also helped orchestrate the Abraham Accords, which normalized ties between Israel and multiple nations in the Middle East and North Africa.
Likely because of this, Netanyahu has until now largely excused Trump's support for domestic white supremacists, antisemites, and neo-Nazis.
In the week since his meeting with Fuentes, Republicans have been loath to criticize Trump. GOP leaders Mitch McConnell and Kevin McCarthy offered weak rebukes, while those who have spoken out explicitly were already vocal Trump critics and not in leadership positions.