Georgia Shatters Early Voting Record in Senate Runoff, With 300,000 Votes in a Single Day
Statewide early voting has begun in Georgia's Senate runoff between Raphael Warnock and Herschel Walker.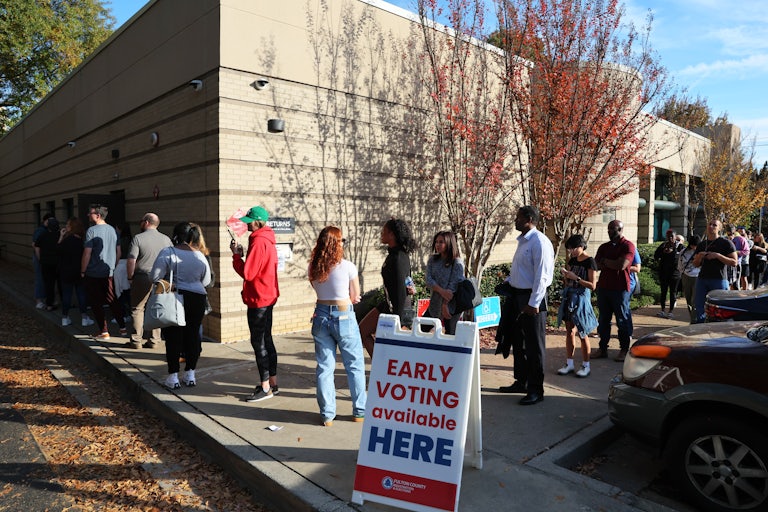 Michael M. Santiago/Getty Images
Georgia has broken its own state record for the most ballots cast in a single day.
Statewide early voting has begun in Georgia's Senate runoff election between Democratic incumbent Raphael Warnock and Republican challenger Herschel Walker, and voters are fully embracing the opportunity. On Monday, over 300,000 Georgia voters turned out to cast their ballots. The previous record for early voting in a single day was 233,000 votes in 2018.
As of early Tuesday morning, one week before Election Day, turnout eclipsed 500,000, or 7 percent of all registered Georgia voters. Women outpace men, making up 55.4 percent of early voters. Meanwhile, 9.4 percent of registered Black voters have already voted, a higher percentage than any other ethnic group.
Before Monday's record, nearly 182,000 people had voted, either with absentee ballots or in select counties that opened voting earlier.
State and national Republican officials fought to prevent the state from allowing early voting before Monday, but the Georgia Supreme Court ruled against them.
As early voting began, the two campaigns pursued different strategies. Warnock spent his time over the weekend around Atlanta rallying supporters and leading a march to the polls. He benefited from surrogates including Senator Cory Booker, hip-hop artist Waka Flocka Flame, and Yolanda King, civil rights activist and Martin Luther King's granddaughter.
Meanwhile, Walker spent his time pontificating that anyone peacefully protesting after 5 p.m. should be arrested, that young people don't know what racism is, and that people born after 1990 "haven't earned the right" to try changing the country—and he invited them to leave America instead of complaining, saying they should lose their citizenship if they do.

While Walker complains about young people, more voters aged 18-24 have voted than those aged 25-29, 30-34, 35-40, or 40-45 as of early Tuesday morning.
It is too early to make definite predictions as to what the data may portend. But Warnock's closing message is one of enthusiasm and vision, while Walker is just grumbling about people whose support he ostensibly wants. Voters most eager to turn out early may likely be supporting one message distinctly over the other!