George Santos, Member of Anti-LGBTQ Party, Wore Drag Under the Name "Kitara" in Brazil
It seems when Santos was younger, he was a drag queen who went by the name "Kitara Ravache." Now he's a far-right congressman in a party that calls drag queens groomers.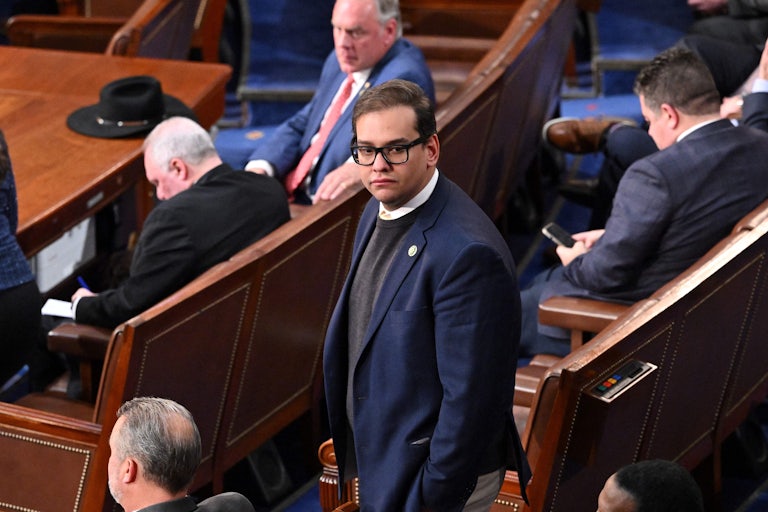 MANDEL NGAN/AFP/Getty Images
George Santos has positioned himself as a proud, unabashed conservative—on social issues and all. He has expressed support for Florida's regressive "Don't Say Gay" law that bars teachers from discussing sexual orientation or gender identity in school. Accusing Democrats of wanting to "groom our kids," Santos peddled right-wing talking points that equate discussing sexual orientation or gender identity with children with sexual abuse. Such talking points often go further, holding that drag shows, or even LGBTQ people generally, groom and abuse children.
It now appears Santos has participated in drag himself.

A 2008 photo from Brazil depicts Santos, known at the time as Anthony, in a drag costume under the moniker Kitara Ravache.
The photo comes from Santos's old friend Eula Rochard, a Brazilian drag queen who spoke with journalist Marisa Kabas. According to their conversation, Rochard met Santos when he was a teenager, and they bonded over both being gay and enjoying drag. After Rochard had seen a news story about Santos, Rochard shared the photo to her social media to prove the old connection.
"Me with the American Republican deputy at the Niterói parade, as I had said he wouldn't leave my house, there's the proof for those who called me a liar," Rochard wrote on Instagram (in rough translation from Portuguese).
To be clear, it's great that Santos enjoyed drag and made a friend while doing it. And in any abstract sense, it doesn't matter! What matters is that Santos has positioned himself among a political movement incredibly antagonistic toward drag queens and others who enjoy drag, one that stokes transphobia and hate toward all LGTBQ people. Santos will try to have it both ways—and Republicans who have decried drag as a moral crisis will too: Either drag truly is an existential threat to our children (wrong) and Santos should be removed from Congress (correct), or drag is absolutely fine (correct) and Santos should not be removed from Congress (wrong).