A List of Every Republican Calling for George Santos to Resign or Be Expelled
More Republicans are calling on the New York representative to resign over his pile of lies.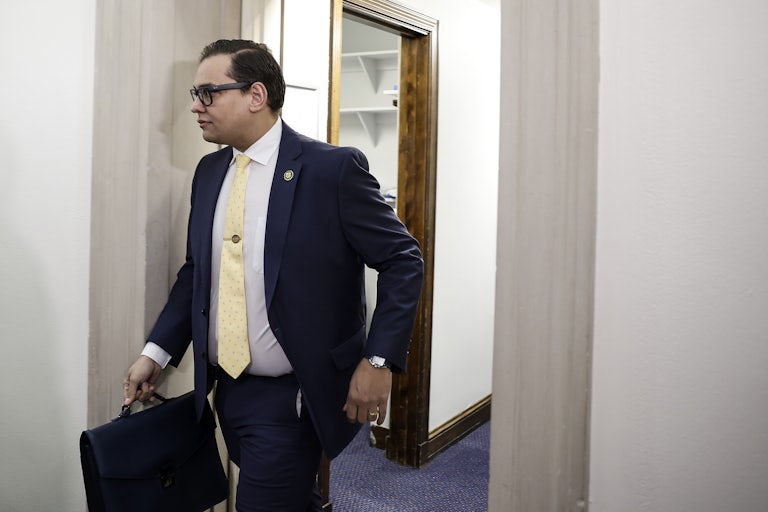 Anna Moneymaker/Getty Images
There may be clowns in Congress, but George Santos is every day building the case that he's the whole circus.
A growing number of Republicans are calling for the New York representative to resign, as his pile of lies (and potential crimes) continues to rise. On Tuesday, May 9, Santos was indicted on 13 counts related to money laundering, wire and unemployment fraud, and lying to Congress.
Twelve Republican members of Congress have called for Santos's resignation so far.
The congressman, for his part, has not yet commented publicly on the charges against him. Though Santos may claim he was rightfully elected by the people, voters actually elected someone now proven to be entirely fictitious—and a criminal.
While Santos weathers the barrage of Democrats who have already called for his resignation, here is every Republican who have joined those calls so far:
Nassau County Republican Party

Suffolk County Republican Party

Representative Steve Womack (Arkansas)

Representative Darin LaHood (Illinois)

Representative Anthony D'Esposito (New York)

Representative Nick LaLota (New York)

Representative Nick Langworthy (New York)

Representative Mike Lawler (New York)

Representative Marcus Molinaro (New York)

Representative Brandon Williams (New York)

Representative Max Miller (Ohio)

Representative Nancy Mace (South Carolina)

Representative Tony Gonzales (Texas)


Senator Mitt Romney (Utah)