What's Next for George Santos?
The New York GOP representative-elect appears to have lied about his credentials. Here's what could happen to him next.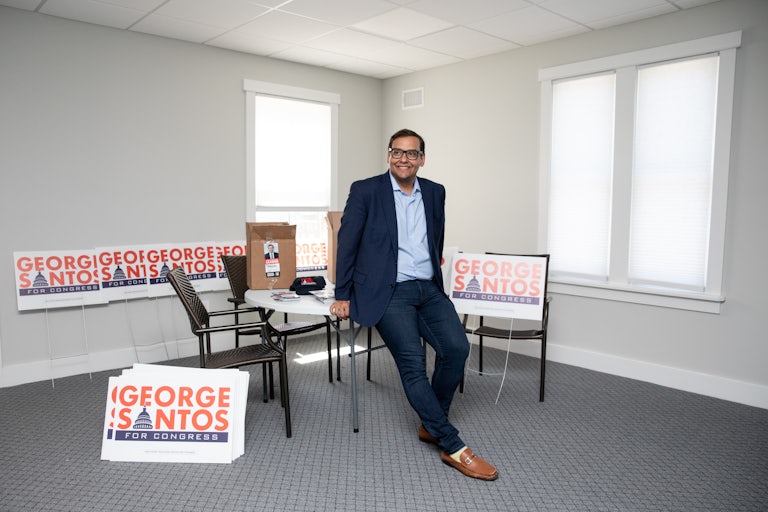 Jackie Molloy/Bloomberg/Getty Images
What will happen next to Representative-elect George Santos?
A bombshell New York Times report charged Monday that the New York Republican had fabricated the bulk of his résumé. Santos responded later that day by invoking twisted identity politics, rather than any actual evidence of his background or policy plans.
House Republicans have remained silent on Santos. When they take control of the House in a few weeks, their majority will be by just a few seats. If he were forced to resign, there's no guarantee another Republican would take his place. He ran unopposed during the primary, and he won his district—which went for President Joe Biden in 2020—by just eight points.
What's more, he supports Kevin McCarthy's bid for speaker of the House. McCarthy is struggling to rally his entire party behind him and will need all the backers he can get.
Democratic Representative Eric Swalwell raised that exact concern after the report broke: "Will @GOPLeader expel Santos or strike a #CorruptBargain so McCarthy can be Speaker?" he demanded on Twitter.
Other Democrats have been equally outspoken in condemning Santos and the Republican Party. Incoming House Democratic leader Hakeem Jeffries slammed Santos as untrustworthy on Twitter, calling him "woefully unqualified" and "clearly unfit to serve" in a separate statement.
But Democrats have stopped short of calling for Santos to resign. Both the spokesman for and the chair of the House Ethics Committee declined to comment to The Washington Post about whether they would investigate Santos. And once Republicans take power, it's unclear how far any efforts to punish or even expel him will go.
The Office of Congressional Ethics, an independent, bipartisan watchdog group, has yet to release a statement on whether it will investigate him.
Either way, it seems the one definite point on Santos's résumé is about to be "New York representative." That he was able to ride his shoddy biography to victory is all the more humiliating for the state's Democratic Party, which suffered major losses during the midterm elections. One such casualty was Mondaire Jones, a popular incumbent who lost the nomination to Democratic Party Chair Sean Patrick Maloney—who ultimately lost the district to his Republican challenger.
Jones, a member of the House Ethics Committee, pointed out his party's basic failing when it came to Santos.