Even Trump's Allies Think His NFTs Are Dumb: "I Can't Take This Anymore"
Steve Bannon, Sebastian Gorka, and Steve Cortes, all former Trump advisers, criticized the NFT announcement.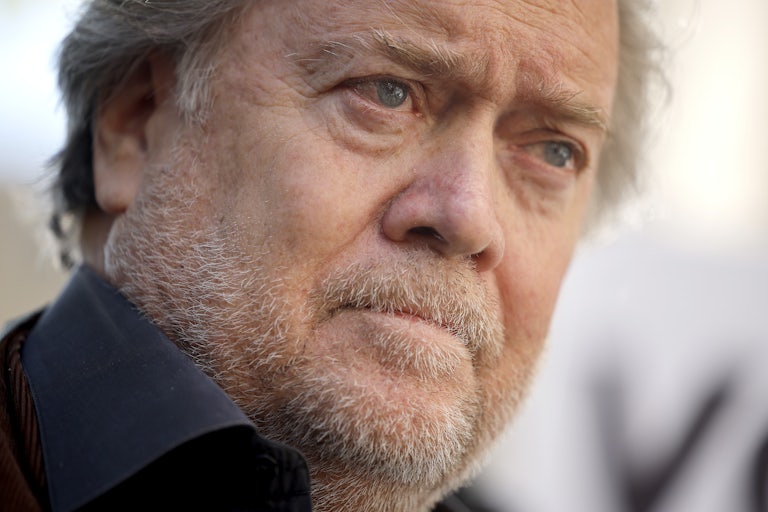 Chip Somodevilla/Getty Images
After former President Donald Trump announced his latest venture into NFTs in a very odd grade-school-styled infomercial, many across all the political spectrum have been clowning the former president's new pursuit.
Trump wasn't even safe from his most stringent fans: his ever-loyal former advisers.

On his show The War Room, former chief strategist Steve Bannon led a discussion with former Trump operatives Steve Cortes and Sebastian Gorka on the announcement. "I can't do this anymore," Bannon started.
Bannon insisted Trump is "one of the greatest presidents in history," and that he still loves the people working for Trump, but urged that whoever signed off on Trump's NFTs project be fired (assuming Trump himself didn't gun for it).
"We're at war. They ought to be fired today," Bannon asserted. "And hey, you don't have three harder-corers than Cortes, Bannon, and Seb Gorka."
Gorka echoed Bannon, saying that "whoever wrote that pitch should be fired" before continuing that "I don't want them making the presidential napkins for Mar-a-Lago."
Gorka continued on his tirade, describing Trump in kingly terms. "The president's war chest is pretty strong right now. We've got two years until the actual, you know, inauguration."
"We don't have time to waste. If you want to do this kind of stuff, have a peon do it—get somebody who's recognized in the MAGA world to put their face to this thing and do it," Gorka said, as if he and his company were all not themselves simply playthings and tools at Trump's disposal.
Trump's allies notably avoided assigning any real culpability to Trump. In the same breath they hail Trump as the best (and presumably brightest and strongest and maybe even handsomest) president ever, so too do they suppose his NFT project is a recommendation from nameless aides or advisers rather than the man himself.
If the NFTs really were Trump's idea, it's hard to imagine him being pleased by his most loyal minions saying the idea is so bad that it warrants getting "fired."