Incoming New York GOP Congressman Seems To Have Made Up His Entire Resume
A new report found Representative-elect George Santos lied about his employment history, his college, and a lot more. How did New York Democrats miss all of that?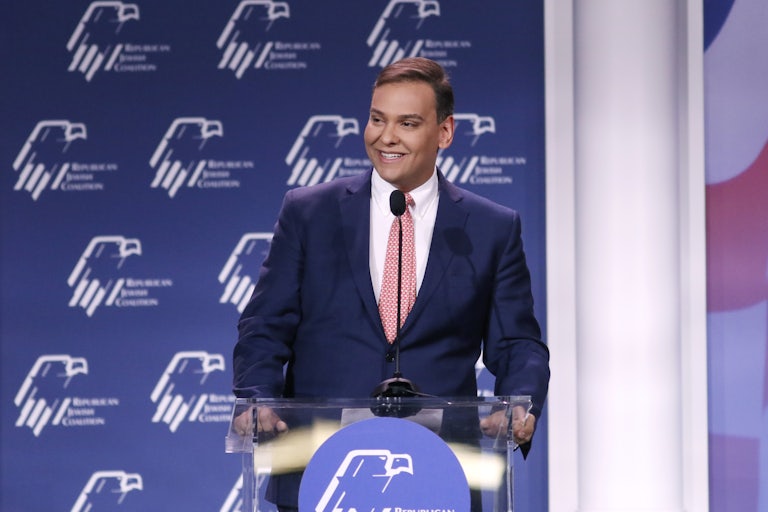 Ronda Churchill/Bloomberg via Getty Images
A MAGA Republican New York representative-elect appears to have fabricated almost his entire resume, The New York Times reported Monday.
George Santos was elected in November to represent Long Island. The way he tells it, he is the son of Brazilian immigrants who graduated from Baruch College, with a stint at New York University. He then went on to work for multiple Wall Street firms before launching his own financial management firm. His family owns multiple real estate properties, and he founded an animal rescue charity.
Except, none of that might actually be true. And the biggest question is, how did Democrats fail to catch any of this during the election?
Neither Citigroup nor Goldman Sachs, two of the main places Santos claims to have worked, were able to verify his employment, according to the Times. Neither Baruch nor NYU could find a record of Santos attending their institutions. What's more, the time Santos says he was at Baruch overlaps with a criminal investigation into him for fraudulent purchases in Brazil.
He says his family owns 13 rental properties, but none were listed on the required financial disclosure forms for his campaign. His multimillion-dollar company has no reported clients, website, or even a LinkedIn page. Santos claimed that four employees from one of his companies—he did not specify which—were killed in the 2016 Pulse nightclub shooting in Orlando, Florida. But the Times said that none of the victims' names matched employees at the companies he mentioned in his biography.
The IRS couldn't find any records that the animal rescue charity Santos says he founded in 2013 held tax-exempt status, and neither the New York nor New Jersey attorneys general offices could find records of the organization being registered as a charity.
And yet Santos still won his district by more than eight percent, helping Republicans flip a seat and clinch a hair-thin majority in the House of Representatives. It seems Democrats failed to do any due diligence on him and instead focused on trying to brand him as an extremist.

Read more at The New York Times.