90 Percent of Californians (One in 10 Americans) Are Under Flood Watch
More than 34 million people are at risk, as the rainstorms in California continue and the death toll keeps rising.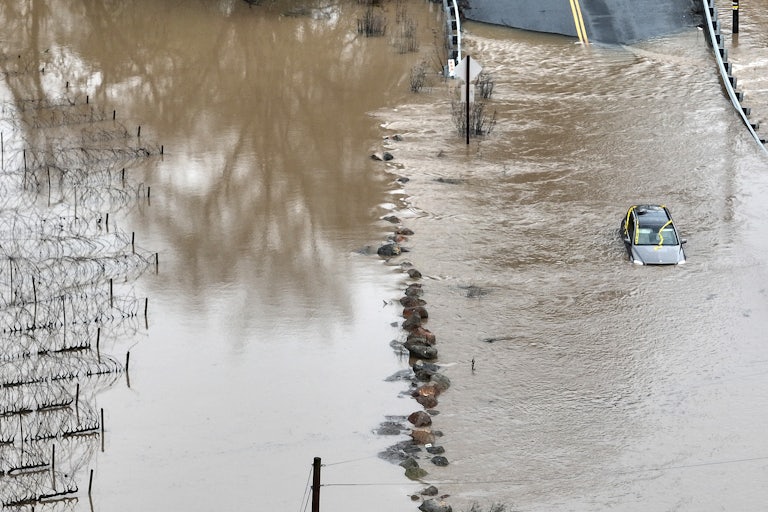 Justin Sullivan/Getty Images
A car is submerged in floodwater after heavy rain on January 9, in Windsor, California.
A relentless onslaught of winter storms have pummeled California, leaving 16 people dead—more than the number of people who have died from California wildfires in the past two years. Now, as more rain looms, some 34 million Californians are under flood watches, or about 90 percent of the state's total population and 10 percent of the country's.
"These floods are deadly and have now turned to be more deadly than even the wildfires here in the state of California," said Governor Gavin Newsom during a press conference Sunday, where he requested a state of emergency from the White House.
The weeks-long storming has left thousands of people without power as dangerous mudslides and flooding have plagued much of the state.
On Monday alone, between five and 10 inches of rain fell across areas facing flood warnings—with some rain levels peaking as high as 15.5 inches. The National Weather Service says that even six inches of water can reach the bottom of most passenger cars, while 12 would float many vehicles.
Hundreds of thousands have had their power knocked out over the course of the ongoing storms. As of writing, Poweroutage.us tracks just under 180,000 customers currently without power.
In a vacuum, such amounts of rain may superficially sound like a welcome interruption in a region blighted by drought. After all, the massive rainfall is part of what are known as "atmospheric rivers," systems operating as rivers in the sky, which provide the region with much-needed water. But outside of the vacuum, this series is dropping too much precipitation too quickly. This is largely due to the ever-worsening impacts of climate change.

Warmer and drier conditions have led to more punishing drought in the region; such conditions have helped spark even more damaging wildfires and left the land less able to soak up precipitation. The conditions also lead to less staying annual snowpack, precipitation coming instead in the form of rainwater. All that combines in a recipe for disaster, as is on display now.
Terrifyingly, an August study warned the risk of once-in-a-lifetime megafloods is increasing and will become more damaging, particularly if human-caused climate change patterns continue. The study suggests that storms like the one in California will happen more often, and the "ceiling" for megafloods will increase in both likelihood and potential damage.
So California demands our attention on multiple fronts: the people who need help now and the dire need to improve our systems of life so these crises don't get even worse.