After 15 Tries and Most of His Dignity Gone, Kevin McCarthy Becomes House Speaker
This was the fifth-longest House speaker election in history, with the most votes since before the Civil War.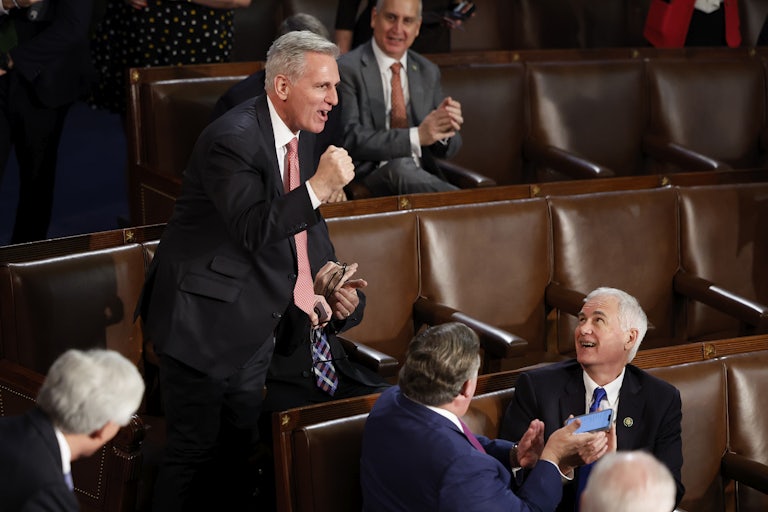 Chip Somodevilla/Getty Images
Early Saturday morning, Kevin McCarthy finally crossed the threshold to become speaker of the House. The result comes on the fifth day, in the fifteenth round of voting, of what has become the fifth-longest speaker election in American history, and the longest since before the Civil War.
McCarthy secured 216 votes, with several earlier Republicans defectors instead voting "present" and lowering the number of votes he needed to win. Throughout the week, McCarthy had struggled to eclipse even 200 votes, starting first at 203, before dropping to 202 and even 201 as a group of 19 Republicans continually voted against him, round after round. Meanwhile, Democrats proffered a united front, giving Hakeem Jeffries 212 votes over and over again.

Finally, on Friday afternoon, in the twelfth vote, some movement began to occur as McCarthy continued to cave in to the demands of his defectors. As pressure mounted, just enough Republicans voted late Friday night into Saturday morning to push McCarthy through and secure the speakership that continued to evade him.
But the speakership vote is not even half the battle. If there was this much chaos just to elect the House speaker, imagine what this portends for any other vote or House business. Indeed, further pandemonium may be closer on the horizon than McCarthy was counting on:
If the rules package McCarthy put together to secure the speakership fails after he secures the speakership, there's no telling what other hurdles may lie ahead. There's been so much attention placed upon the 19 Republican defectors that McCarthy may have taken for granted the nearly 200 other members of his party, let alone the 212 Democrats, who might have other ideas.