Debbie Stabenow Won't Seek Reelection in 2024, Making a Trickier Senate Map for Democrats
The Democratic senator in a key battleground state is retiring. Here's who could possibly take her place.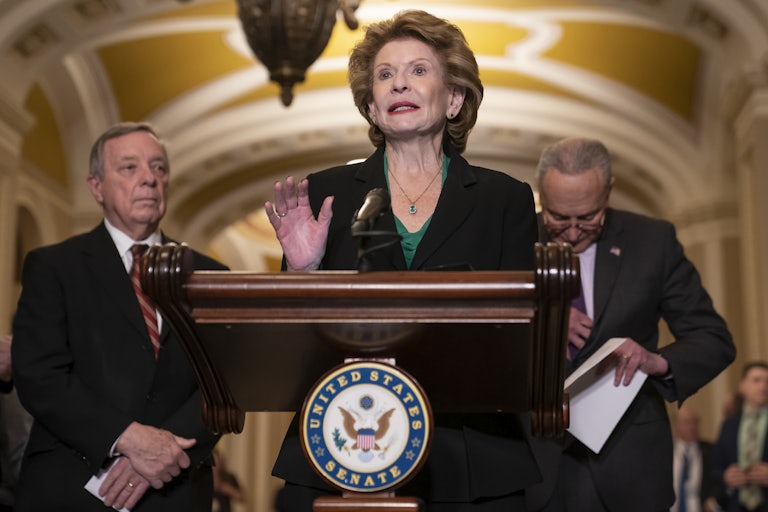 Nathan Howard/Getty Images
Senator Debbie Stabenow
On Thursday morning, Michigan Senator Debbie Stabenow announced that she will not seek reelection in 2024. "Inspired by a new generation of leaders, I have decided to pass the torch in the U.S. Senate," Stabenow said in a statement.
While many congressional announcements can feel full of filler materials, statements like these warrant closer attention at every line. And as Democrats will now have to protect yet another seat in an exceedingly difficult Senate map, the question of who may earn the bid to do so is already buzzing.

Stabenow highlighted how she was the first woman from Michigan elected to the Senate, among other milestones. But, Stabenow continued, "I have always believed it's not enough to be the 'first' unless there is a 'second' and a 'third.'" This may give a clue as to who Stabenow may support among an already wide potential field of candidates.
Governor Gretchen Whitmer led a commanding reelection in November, on the same scale that led the media to fawn over Florida's Ron DeSantis. Such a performance may be an antecedent to a presidential run, but Biden's future decision, among other things, could readily skew that calculus. If so, a Whitmer bid for the Senate (especially one blessed by Stabenow) would be formidable.

Former Representative Andy Levin could also lead a strong candidacy. Levin, who is Jewish, was a target of inordinate spending from AIPAC—which has funded scores of conservative and election-denying candidates—in his primary loss to Haley Stevens in 2022. Previously endorsed by Senators Bernie Sanders and Elizabeth Warren, J Street, and an array of unions, Levin offers progressives a unifying vessel to rally behind in a state hospitable for a strong Democratic performance.
Other rising Democratic stars in Michigan include: Lieutenant Governor Garlin Gilchrist (who would be Michigan's first Black senator), Secretary of State Jocelyn Benson (who won a crucial reelection in 2022), and Attorney General Dana Nessel (the first openly LGBT person elected statewide).
And then there is Pete Buttigieg. After catapulting from mayor of a town with a smaller population than Fargo, North Dakota, to momentarily well-known presidential candidate, to now being the face of transportation while millions of people get skeeved by big airlines, Mayor Pete had moved to Michigan earlier this year to apparently be closer to family.

But as 2024 approaches—and his boss may run for reelection—it seems Buttiegeig may have high hopes to carpetbag himself into winning a seat against a wide, strong field of candidates actually from the state.