George Santos's No Good, Very Bad First Day In Congress
The new congressman doesn't seem to be having a lot of fun.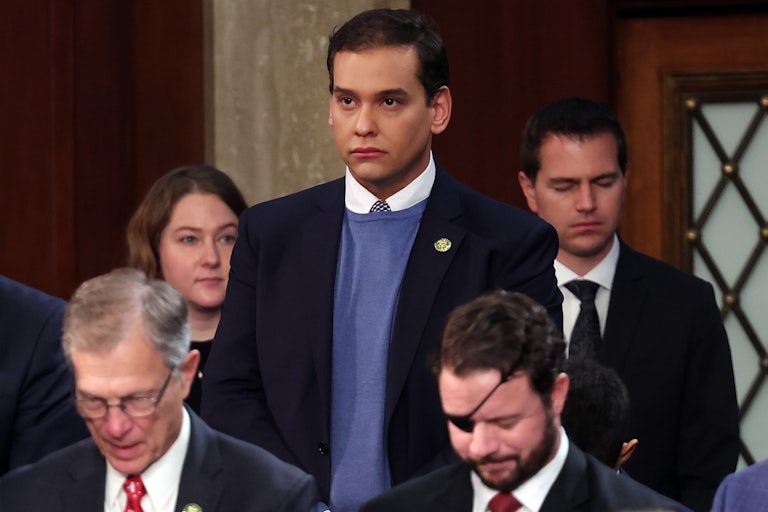 Win McNamee/Getty Images
It was George Santos's first day in Washington Tuesday, and it seems like his reliable political chops and gravitational charm are not working quite yet. While the serial liar, and now representative, has apparently enjoyed some allyship from Marjorie Taylor Greene, he wasn't otherwise seen doing much socializing.
As members of Congress steered clear of fraternizing with the guy whose identity we just can't be sure of, he didn't seem keen to talk to the people giving him the most attention: members of the press.
Appearing less like a man trying to make a splash on his first day on the hill, and more like a man advised by his lawyer to remain silent, Santos certainly isn't projecting confidence to voters, or even to people wondering if he deserves to be in Congress at all.
After being royally exposed for lie after lie during the past few weeks, Santos has shown no intention of resigning, and the Republican caucus overall hasn't made any substantial indication of what they will do. It's a bit concerning for such an unflappable liar to just be sitting in Congress like a bored middle schooler.

Meanwhile, Santos is facing reopened criminal charges in Brazil for allegedly stealing the checkbook of an elderly man his mother was taking care of as a nurse, and using it to buy some $1,300 worth of clothes and shoes.

Santos also faces legal scrutiny stateside. The congressman-elect recently came into an irregularly quick and massive fortune, and loaned more than $700,000 to his campaign. As a result, both federal and local authorities are probing into Santos's campaign and financial dealings. So while we can't seem to address Santos's almost-criminal level of lying, he may be charged with actual gross criminality.