Democrats Now Have Six Years of Trump's Tax Returns
After a very, very long legal battle, a Democratic-led House committee got a hold of Donald Trump's tax returns.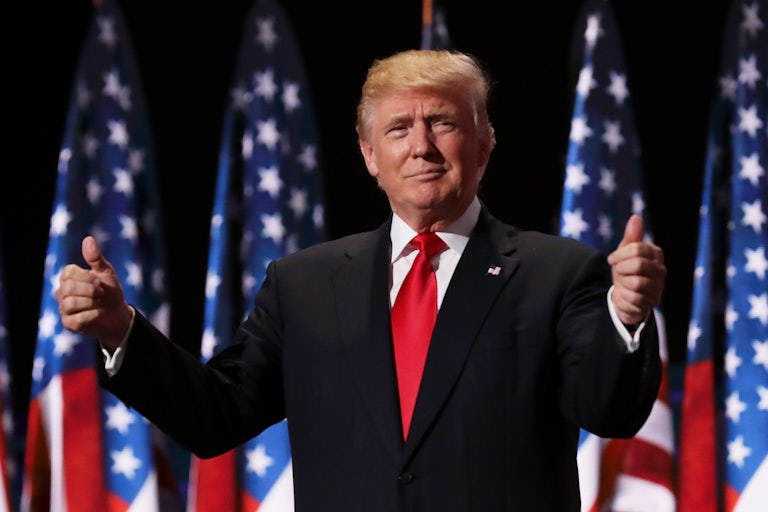 Chip Somodevilla/Getty Images
The House Ways and Means Committee on Wednesday finally obtained six years' worth of Donald Trump's tax returns, despite repeated efforts by the former president to prevent it.
The Democratic-led committee—and Democrats in general—have been trying to get Trump's tax returns for three years, after he refused to release them during the 2016 presidential election, which is not required but is precedent. And now, CNN first reported, the Treasury Department has finally given them the receipts.
The Supreme Court last week denied Trump's request to withhold his tax returns from the committee and ordered the Treasury to hand the documents over. This came about a month after a federal appeals court also ruled against him, declining to reconsider an August decision approving the committee's request for the papers.
The House committee requested the tax returns for six years, primarily from his time in office. The documents include his personal tax information and that of several of his businesses.
Trump has fought long and hard to prevent the release of his tax returns, raising questions about why he would do so.
He seems to be fighting a multifront war, and it is not going super well. Senator Lindsey Graham was forced to testify last week before a Georgia grand jury over efforts to overturn the 2020 election, and former chief of staff Mark Meadows has been ordered to do the same.
The Supreme Court in January declined to stop the National Archives from turning over documents to the House January 6 committee, which is circling closer to Trump and his involvement in the riot.
Trump is under investigation by the FBI for taking classified documents to Mar-a-Lago, and the New York attorney general has filed suit against him, his family, and his business for fraud.
And the Republican Party in general just seems to be over him.