McCarthy Faceplant Watch: Six Rounds of Voting and Republicans Still Can't Pick a House Speaker
When will this end?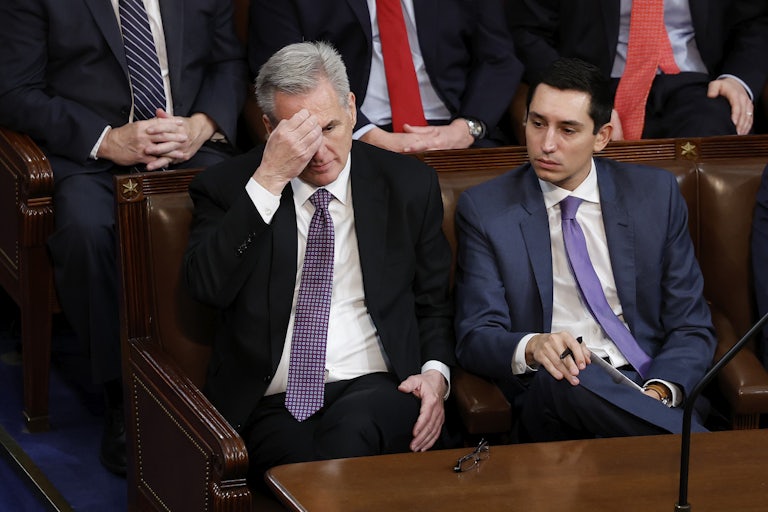 Anna Moneymaker/Getty Images
Kevin McCarthy yet again failed to secure the House speaker gavel, after six rounds of voting stretched over two days.
Despite holding a majority in the House, Republicans still can't coalesce behind McCarthy—or any other candidate for that matter.
McCarthy secured only 201 votes, with Democrat Hakeem Jeffries again securing a plurality of 212 votes. As in the prior two rounds of voting, 20 Republicans voted against McCarthy and for Florida Representative Byron Donalds instead. An additional Republican, Representative Victoria Spartz, voted present for the third time, as a separate form of rebuking McCarthy. Despite the endless hours stuck in the House's chambers, the dissenters haven't shown any indication of budging yet.
McCarthy's loss is especially impressive, given that it means three failures on the same day that former President Donald Trump endorsed his bid for House speaker.
It's not clear when this floor fight will end, and the House cannot begin governing until there is a speaker. There's no set deadline, so the drama could be resolved this week or take weeks, or even months, to resolve.
Earlier in the day, Representative Lauren Boebert said former President Donald Trump called the 20 Republicans blocking McCarthy's bid and told them they "need to knock this off." No luck, yet.
This post has been updated.