New York Republicans Demand George Santos Resign Immediately, Calling Him a "Disgrace"
There is "absolutely no way Mr. Santos can be an effective member of Congress."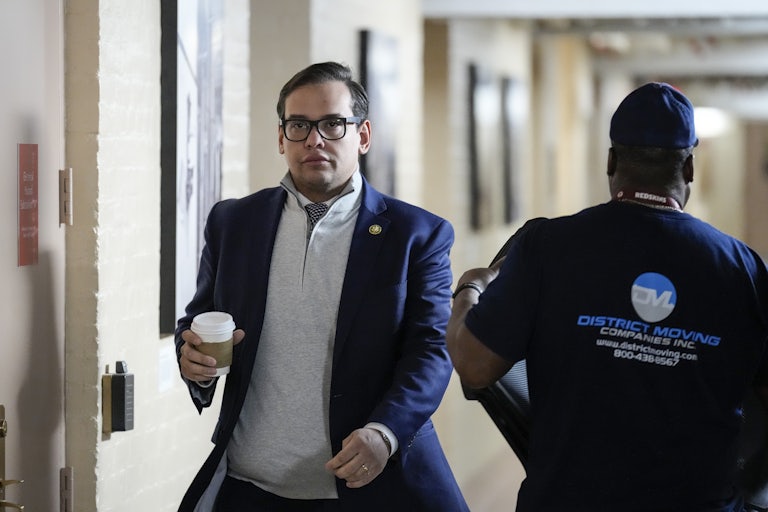 Drew Angerer/Getty Images
New York Republicans are calling on George Santos to resign, saying he "disgraced" the House of Representatives with his serial lies.
Republican leaders of Nassau County, which Santos represents, said Wednesday there was "absolutely no way Mr. Santos can be an effective member of Congress" and urged him to step down immediately.
They also slammed him for being "insincere, glib, and insulting" when answering questions about his background, much of which he appears to have fabricated.
Santos stayed true to form in responding, tweeting, "I will NOT resign!"
Several Democrats have already said Santos should resign, but this latest call is the first from any form of Republican leadership. Representative Anthony D'Esposito became the first House Republican to call for Santos's resignation, as he joined the press conference Wednesday.

The call for Santos's resignation comes a day after he was hit with his second ethics complaint just this week. New York Democrats Ritchie Torres and Daniel Goldman filed a formal complaint Tuesday asking the House Ethics Committee to investigate whether Santos broke the Ethics in Government Act. On Monday, the nonpartisan Campaign Legal Center also filed a formal complaint with the Federal Election Commission, accusing Santos of masking the real source of his campaign's funds, misrepresenting his campaign's spending, and using campaign funds to pay for personal expenses. Meanwhile, federal prosecutors and prosecutors in Nassau County are investigating Santos's finances and financial disclosures.

Santos has admitted he fabricated parts of his professional background. It appears he also made up details of his educational history, his ethnicity and religion, and even his mother's death. His list of his tall tales appears to grow longer by the day.
House Republican leadership, however, still seems unsure of what exactly to do with him. With the party holding onto the House majority by only a few seats, every vote counts—and Santos proved his loyalty by voting for Kevin McCarthy in every round of votes for speaker. It appears that Santos will still get committee assignments, so any consequences for him remain unclear.

This post has been updated.