Prosecutors: George Santos Scammed People And Used The Money For Designer Clothes
Hopefully a 13-count indictment doesn't interfere with the congressman's acclaimed volleyball career.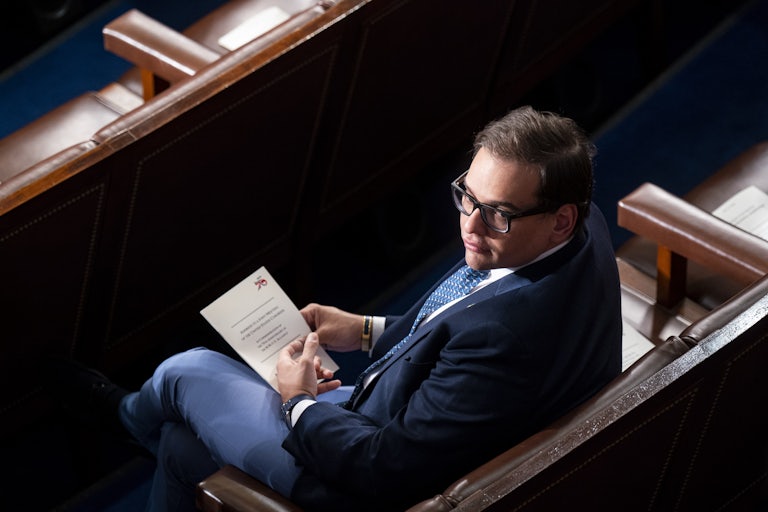 Al Drago/Bloomberg/Getty Images
George Santos
New York Representative and serial fabulist George Santos was charged Wednesday with 13 counts of various forms of financial fraud.
The freshman congressman known for making up a career in volleyball (among other more serious fabrications) surrendered to authorities at the federal court on Long Island. He was officially charged with five counts of wire fraud for soliciting donations to a company that was managed by his LLC, Devolder Organizations LLC. Santos allegedly said the money would go towards his House campaign, and that the donations could be unlimited because the company was a Super PAC and a registered nonprofit, none of which is true.
Santos was charged with three counts of unlawful monetary transactions for transferring those donations from the company bank account to his personal account. The court documents allege that he used those funds for personal expenses, "including luxury designer clothing and credit card payments," not his campaign.
He was also charged with one count of theft of public money and two counts of unemployment fraud. In mid-June 2020, Santos allegedly applied for unemployment benefits under the Covid-19 relief program, despite the fact that he was making a $120,000 salary at an investment firm. According to court documents, Santos received regular unemployment payments from June 2020 until April 2021, even though he was employed.
Finally, Santos was charged with two counts of making false statements on his House financial disclosure reports. In 2020, when he first ran for Congress, he claimed his total earned income was $55,000, paid by one company. In reality, he made about half of that from a second company, Harbor City Capital, which was accused of a ponzi scheme and which he conveniently failed to disclose.
Then, in 2022, he claimed he had a $750,000 salary from Devolder Organizations LLC and between $1 and $5 million in dividends from the same company in a savings account. Court documents allege that not only were neither of these statements true, but Santos only made about $48,000 from 2021 up to when he filed the disclosure form. Half that money was a salary from another company, and the rest came from unemployment benefits.

Santos has courted nothing but scandal since he was elected in the 2022 midterms. He appears to have fabricated the bulk of his professional and educational resume. He also claimed his mother survived 9/11 (she was not even in the country) and seemingly lied that his grandparents fled the Holocaust and four of his employees were killed in the Pulse nightclub shooting.
Santos is also still under investigation by the House Ethics Committee, and he agreed to a deal with Brazilian authorities investigating him for financial fraud.
This story has been updated.

Read the full indictment here.