Howard Schultz Accidentally Admits Starbucks Violated Labor Law on Unions
The former Starbucks CEO appeared before a Senate hearing, during which he confirmed the labor violation.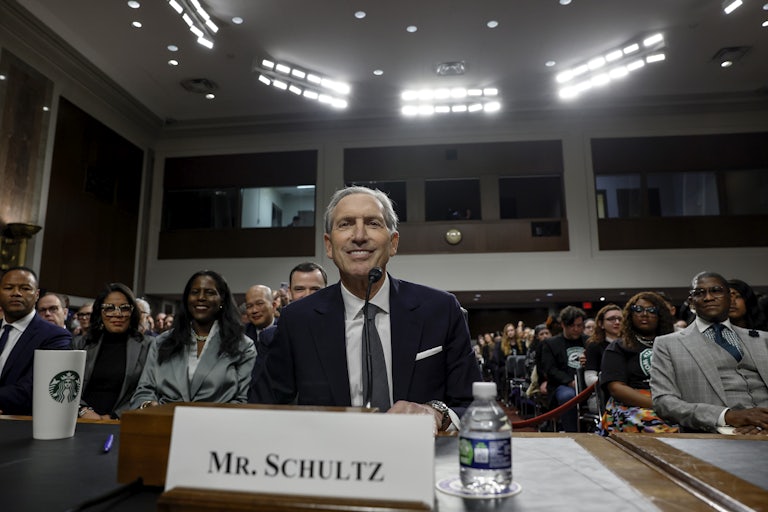 Anna Moneymaker/Getty Images
Former Starbucks CEO Howard Schultz
Howard Schultz admitted Starbucks violated labor law during a Wednesday hearing before the Senate Health, Education, Labor and Pensions Committee.
Senator Mitt Romney, attempting to defend the former Starbucks CEO, asked Shultz whether nonunion store employees made less than union store employees.

"The starting wage has been the same," Schultz began. "The only difference is the benefits that we created in May, in my understanding under the law, is that we were not allowed to provide those benefits to people who were organizing to join a union."

"So, in fact, the nonunion stores are actually a little better total package than the union stores," Romney responded, unwittingly confirming the labor violation.
It is unclear what law Schultz was referring to that prevented Starbucks from increasing benefits for all workers. Meanwhile, last year, the National Labor Relations Board deemed it a labor law violation to give pay raises and benefits to nonunion stores but deny them from organizing stores.
Romney (co-founder of Bain Capital, one of the largest private investment firms in the nation, and whose net worth is reportedly some $300 million) also complained about the hearing's premise generally.

"I recognize at the outset there's some irony to a non–coffee drinking Mormon conservative defending a Democrat candidate for president and perhaps one of the most liberal companies in America," Romney said, even though Schultz never ran for president, and no matter how many "equality" pictures a company tweets, they are not "liberal" if they union-bust. "That being said, I also think it's somewhat rich that you're being grilled by people who have never had the opportunity to create a single job. And yet they believe that they know better how to do so."
Apparently, according to Romney, you're not allowed to challenge America's elites unless you're a boss.