Trump's Own Lawyers Could Be Forced to Testify Against Him in Special Counsel Case
The president's legal issues seem to be growing day by day.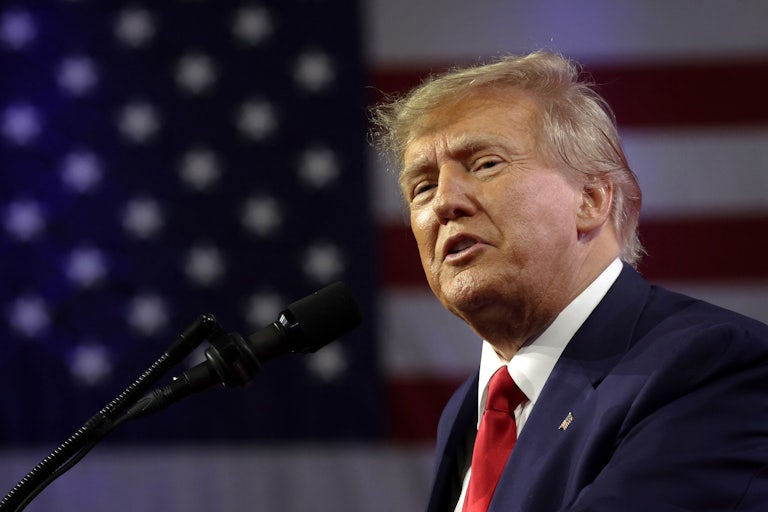 Alex Wong/Getty Images
A top federal judge ruled that some of Donald Trump's attorney-client privileges could be "pierced" after prosecutors for the special counsel investigating the former president found he intentionally misled his own attorneys about keeping classified materials when he left office. As a result, two of Trump's lawyers could now be forced to testify against him.
Jack Smith was appointed in November as the special counsel to investigate Trump's role in the January 6 attack and his keeping hundreds of classified documents at his Mar-a-Lago estate. Trump has repeatedly denied any wrongdoing.
U.S. Judge Beryl Howell wrote in a sealed court filing Friday that Smith's team had found preliminary evidence that showed "the former president had committed criminal violations," ABC News reported. Howell, who stepped down Friday as the chief judge for the D.C. district court, found prosecutors had "sufficient" evidence that Trump "intentionally concealed" many of the classified documents from his own legal team.
For now, the D.C. Circuit Court of Appeals has temporarily stayed Howell's order, but a final ruling could come at any moment.
Howell ordered Trump attorney Evan Corcoran to comply with a grand jury subpoena for testimony on six different lines of inquiry. She also ordered him to hand over records of Trump's alleged "criminal scheme," including handwritten notes, invoices, and transcriptions of personal audio recordings.
The judge also ordered Trump lawyer Jennifer Little to testify for unspecified reasons. Little is representing the former president in the Georgia investigation into efforts to overturn the 2020 election results in the state.
Prosecutors will need to reach a much higher standard of evidence to seek charges against Trump and prove him guilty, Howell said. But her decision is "an indication that the government had presented some evidence and allegation that they had evidence that met the elements of a crime," former national security official Brandon Van Grack told ABC.
Former federal prosecutor Andrew Weissmann, who led the successful prosecution of former Trump campaign chief Paul Manafort, said Howell's order could be a "gold mine" for proving wrongdoing by Trump. Howell also presided over Manafort's obstruction charges.
A Trump campaign spokesman, who sounded a lot like Trump publicist John Miller, hit back at Howell's order. "Shame on Fake News ABC for broadcasting ILLEGALLY LEAKED false allegations from a Never Trump, now former chief judge, against the Trump legal team," the spokesperson said in a statement. "The real story here, that Fake News ABC SHOULD be reporting on, is that prosecutors only attack lawyers when they have no case whatsoever."
Trump and his supporters have repeatedly accused prosecutors of weaponizing their offices to attack the former president. The latest target is Manhattan District Attorney Alvin Bragg, who is expected to indict Trump this week for his alleged role in hush-money payments to adult film star Stormy Daniels.