Georgia House Passes Bill Banning Gender-Affirming Care for Trans Kids
Georgia is on track to become the ninth state blocking gender-affirming care for transgender youth.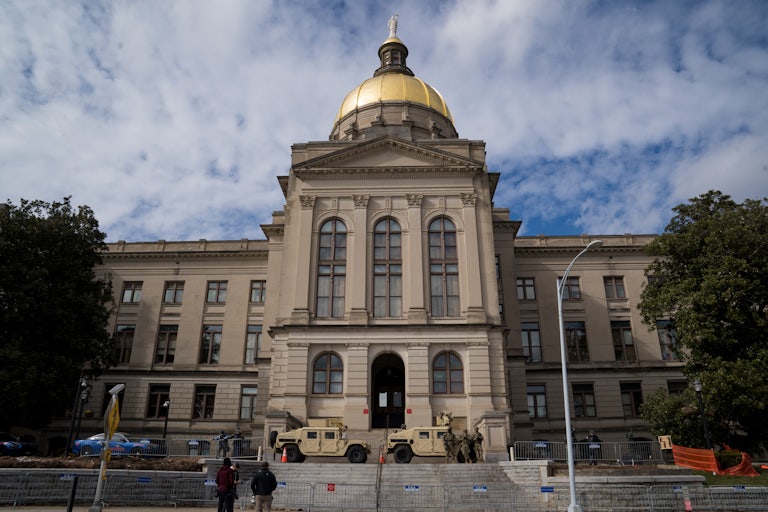 Megan Varner/Getty Images
Georgia Capitol building
The Georgia House of Representatives passed a bill Thursday banning gender-affirming care for minors, putting it on track to become the ninth state to target transgender youth.
The bill passed by a vote of 96–75 and now goes to the Senate. The Republican-controlled chamber already passed a previous version of the measure and so is likely to pass the amended one too.
If it becomes law, the bill would ban hormone therapy and transition-related surgeries for anyone under the age of 18, with proponents and the bill text arguing that doing so would protect children.
Major medical organizations, including the American Academy of Pediatrics, support giving gender-confirming care to children, deeming it medically necessary and even lifesaving.
Democratic Representative Omari Crawford slammed the measure ahead of the vote, arguing that passing it would essentially be the same as the chamber making medical decisions. "We are not doctors, we are lawmakers," he said. "Voting for this bill would make us hypocrites."
While debating the bill, several of the representatives who back it cited data that is outdated and inaccurate, writer Erin Reed pointed out. Republicans also insisted that there are no studies that show whether gender-affirming care has a positive effect.
This is not true: Multiple studies, including one published in the New England Journal of Medicine and another released by the Journal of Adolescent Health, have found that trans and nonbinary teenagers who receive gender-affirming care have significantly lower rates of anxiety, depression, and suicide or suicide attempts.
"What you just heard is disinformation," Democratic Representative Sam Park said of his Republican colleagues' arguments. "You are not protecting children by passing this bill. You are inflicting harm.
"You are passing this bill in your political self-interest."
Other Democrats pointed out the hypocrisy of barring parents from making decisions about their children's welfare while insisting parents had the right to decide what topics kids study in school.
Georgia is part of a much larger wave of Republican-led states seeking to dramatically curtail the rights of gender minorities. The bills don't just focus on trans minors: Other bills would attack drag performances, prevent people from changing their IDs to reflect their gender identity, or even set a legal definition of gender to exclude trans and nonbinary people.