Walgreens Refuses to Clarify Decision to Stop Selling Abortion Pill in States Where It's Legal
Meanwhile, boycott threats are growing.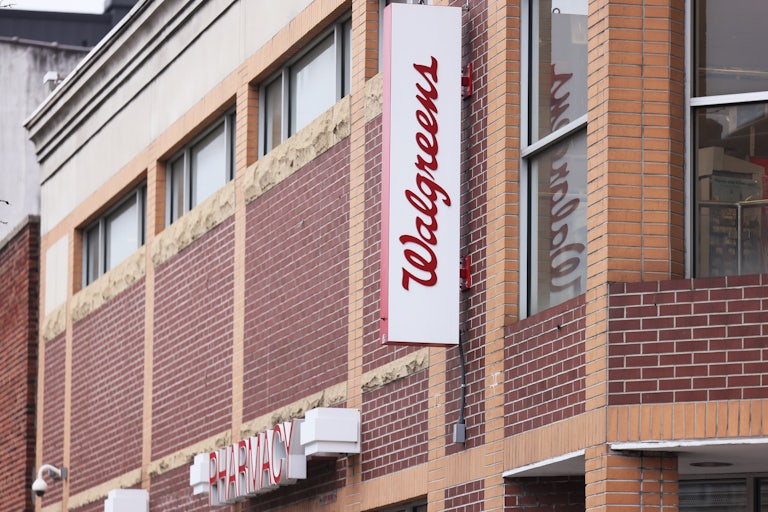 Michael M. Santiago/Getty Images
Walgreens is dodging questions about its plans to stop selling the abortion pill even in states where the procedure is still legal, after coming under fire for caving to pressure from anti-abortion Republican officials.
The pharmacy chain had said in January it would seek certification from the Food and Drug Administration to dispense mifepristone, one of the medications used to induce an abortion. But Walgreens changed course a month later, following intense pressure from almost two dozen Republican attorneys general. It tried to make its position clear Monday night … except the company's statement was anything but.
"Walgreens plans to dispense Mifepristone in any jurisdiction where it is legally permissible to do so," the pharmacy chain said in the statement. "Once we are certified by the FDA, we will dispense this medication consistent with federal and state laws."
The statement failed to specifically address Walgreens' earlier announcement that it would not dispense the abortion pill in 21 states where Republican attorneys general had threatened legal action. Abortion is still legal in more than half of those states. Of the group, Alabama, Arkansas, Kentucky, Louisiana, Mississippi, Missouri, Oklahoma, South Dakota, Texas, and West Virginia have banned the procedure.
Alaska, Indiana, Kansas, Montana, North Dakota, and South Carolina currently allow abortion, either because the procedure is fully legalized or because a court has blocked an attempt to ban the procedure. Florida, Georgia, Iowa, Ohio, and Utah still allow abortion up to anywhere from six to 21 weeks into the pregnancy.
Walgreens's promise not to sell mifepristone in Kansas is particularly egregious, as residents voted last summer to keep abortion protections in the state constitution but Republican lawmakers are currently working to override the will of the people.
Medication abortions make up more than half of all abortions in the United States, and are considered a crucial tool in maintaining access to the procedure since Roe v. Wade was overturned. Republican lawmakers are trying to make it harder to access abortion pills, such as in Texas, where an official introduced a bill last week that would compel internet providers in the state to block websites that sell or provide information on how to obtain the medication. Another lawmaker introduced a bill that would ban credit card companies from processing transactions for abortion pills.
California Governor Gavin Newsom said Monday that his state "won't be doing business" with Walgreens because it "cowers to the extremists and puts women's lives at risk." Walgreen stock dropped sharply after his announcement.
Calls to boycott the pharmacy have been growing online, including from documentary maker and activist Michael Moore.
The fact that Walgreens caved to Republican pressure, though, may not be all that surprising. The pharmacy chain has made several donations to anti-abortion groups in recent years, according to Popular Information.
Walgreens has donated more than $80,000 to the Republican Attorneys General Association, or RAGA, since 2020. All of the attorneys general who pressured the company over mifepristone are RAGA members.
Walgreens also donated a total of $123,500 during the 2022 midterms to 39 different members of Congress who received a failing grade from NARAL Pro-Choice America. Among those lawmakers are 12 co-sponsors of the Heartbeat Protection Act, a 2021 bill that would have banned abortion nationwide at six weeks, before many people even know they are pregnant.